An insight into osteoarthritis susceptibility: Integration of immunological and genetic background
Debora Stefik

Institute for Medical Research, Military Medical Academy, Belgrade, Serbia

https://orcid.org/0000-0001-6610-4812

Vladimir Vranic

Clinic for Orthopedic Surgery and Traumatology, Military Medical Academy, Belgrade, Serbia

https://orcid.org/0000-0003-4625-0155

Nemanja Ivkovic

Institute for Medical Research, Military Medical Academy, Belgrade, Serbia

Dzihan Abazovic

Renova Clinic, Belgrade, Serbia

https://orcid.org/0000-0002-7676-458X

Dusan Maric

Institute for Child and Youth Health Care of Vojvodina, Novi Sad, Serbia

https://orcid.org/0000-0002-3981-3215

Danilo Vojvodic

Institute for Medical Research, Military Medical Academy, Belgrade, Serbia; Medical Faculty of Military Medical Academy, University of Defense, Belgrade, Serbia

Gordana Supic

Institute for Medical Research, Military Medical Academy, Belgrade, Serbia; Medical Faculty of Military Medical Academy, University of Defense, Belgrade, Serbia

https://orcid.org/0000-0003-0350-4733
Keywords:
osteoarthritis, immunology, genetic polymorphisms, genetic susceptibility
Abstract
Osteoarthritis (OA) is a progressive degenerative disease that affects all synovial joints, causing the disability of the main locomotor diarthrodial joints. OA pathogenesis is caused by a complex interplay between a number of genetic and environmental risk factors, involved in the early onset and progression of this chronic inflammatory joint disease. Uncovering the underlying immunological and genetic mechanisms will enable an insight into OA pathophysiology and lead to novel and integrative approaches in the treatment of OA patients, together with a reduction of the disease risk, or a delay of its onset in susceptible patients.
Downloads
Download data is not yet available.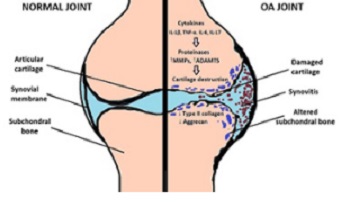 How to Cite
1.
Stefik D, Vranic V, Ivkovic N, Abazovic D, MaricD, Vojvodic D, SupicG. An insight into osteoarthritis susceptibility: Integration of immunological and genetic background. Bosn J of Basic Med Sci [Internet]. 2020Sep.11 [cited 2021Jan.24];. Available from: https://www.bjbms.org/ojs/index.php/bjbms/article/view/4735
Copyright (c) 2020 Debora Stefik, Vladimir Vranic, Nemanja Ivkovic, Dzihan Abazovic, Dusan Maric, Danilo Vojvodic, Gordana Supic
This work is licensed under a Creative Commons Attribution 4.0 International License.