Safety and effectiveness of new embolization microspheres SCBRM for intermediate-stage hepatocellular carcinoma: A feasibility study
Keywords:
Biodegradable, hepatocellular carcinoma, transcatheter arterial chemoembolization, microspheres, safety, efficacy
Abstract
Transarterial chemoembolization (TACE) is, currently, the recommended treatment for hepatocellular carcinoma (HCC). However, long-term chemoembolization triggers the inflammatory response and may lead to postembolization syndrome (PES). Although several types of degradable microspheres have been developed to reduce drug toxicity and PES incidence, the clinical outcomes remain unsatisfactory. Previously, we have developed a new type of spherical, calibrated, biodegradable, radiopaque microspheres (SCBRM) and demonstrated their safety and efficacy in a pig model. Thus, the goal of this feasibility study was to determine the clinical safety and efficacy of the new SCBRM in intermediate-stage HCC patients. In this study, 12 intermediate-stage HCC patients underwent TACE using SCBRM with a calibrated size of 100–250 μm. The disease control rates at 1 month and 3 months after TACE-SCBRM treatment were 100% and 75.0%, respectively. The objective response rates at 1 month and 3 months after treatment were 66.7% and 58.3%, respectively. Very few adverse events were observed with one patient developing nausea. One day after the treatment, alanine aminotransferase, alanine aminotransferase, and total bilirubin levels were slightly elevated in the patients, but all returned to baseline on day 7. The median and mean overall survival times were 33 months (interquartile range, 12.8–42.0) and 29.2 ± 14.3 months, respectively. The 1-year and 2-year survival rates were 91.7% and 58.3%, respectively. In conclusion, TACE with the new SCBRM microspheres is clinically safe and effective, and it represents a promising approach in the management of intermediate-stage HCC.
Downloads
Download data is not yet available.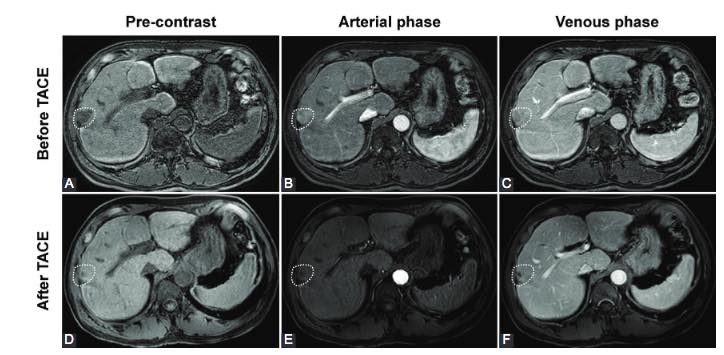 Downloads
Additional Files
How to Cite
1.
Liu Y-S, Lin X-Z, Chen C-Y, Chiu Y-C, Kang J-W, Tsai H-W, Hung H-Y, Ho C-M, Ou M-C. Safety and effectiveness of new embolization microspheres SCBRM for intermediate-stage hepatocellular carcinoma: A feasibility study. Bosn J of Basic Med Sci [Internet]. 2021Jun.1 [cited 2022May17];21(3):339-45. Available from: https://www.bjbms.org/ojs/index.php/bjbms/article/view/4770
Section
Translational and Clinical Research