Surgical anatomy of microsurgical 3-level anterior cervical discectomy and fusion C4–C7
Keywords:
Anterior cervical spine, ACDF, discectomy, fusion, allograft
Abstract
Anterior cervical discectomy and fusion (ACDF) is one of the most common spinal procedures, frequently used for the treatment of cervical spine degenerative diseases. It was first described in 1958. Interestingly, to our knowledge, 3-level ACDF has not been previously published as a peer-reviewed video case with a detailed description of intraoperative microsurgical anatomy. In this video, we present the case of a 33-year-old male who presented with a combination of myelopathy (hyperreflexia and long tract signs in the upper and lower extremities) and bilateral radiculopathy of the upper extremities. He had been previously treated conservatively with physical therapy and pain management for 6 months without success. We performed 3-level microsurgical ACDF from C4 to C7. All 3 levels were decompressed, and bone allografts were placed to achieve intervertebral body fusion. A titanium plate was utilized from C4 to C7 for internal fixation. The patient was discharged home on the first postoperative day. His pain, numbness and tingling resolved, as well as his myelopathy. No perioperative complications were encountered. Herein we present the surgical anatomy of our operative technique including ertain technical tips. Written consent was obtained directly from the patient.
VIDEO
https://vimeo.com/user128225853
VIDEO ANNOTATIONS
01:13 — opening the surgery site
02:29 — positioning of retractors
03:02 — start of 3-level discectomy
06:04 — allograft placement and fixation
08:20 — drain placement and closure
Downloads
Download data is not yet available.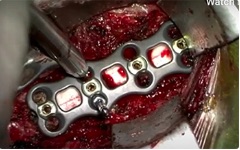 Downloads
Additional Files
How to Cite
1.
Gajski D, Dennis AR, Arnautovic KI. Surgical anatomy of microsurgical 3-level anterior cervical discectomy and fusion C4–C7. Biomol Biomed [Internet]. 2021Jun.1 [cited 2023Sep.23];21(3):258-60. Available from: https://www.bjbms.org/ojs/index.php/bjbms/article/view/4895
License
Copyright (c) 2020 Domagoj Gajski, Alicia R. Dennis, Kenan I. Arnautovic
This work is licensed under a Creative Commons Attribution 4.0 International License.