Stomach-specific c-Myc overexpression drives gastric adenoma in mice through AKT/mammalian target of rapamycin signaling
Keywords:
c-Myc, gastric adenoma, transgenic, AKT/mammalian target of rapamycin
Abstract
Gastric cancer (GC) is one of the most common malignant cancers in the world. c-Myc, a well-known oncogene, is commonly amplified in many cancers, including gastric cancer. However, it is still not completely understood how c-Myc functions in GC. Here, we generated a stomach-specific c-Myc transgenic mouse model to investigate its role in GC. We found that overexpression of c-Myc in Atp4b+ gastric parietal cells could induce gastric adenoma in mice. Mechanistically, c-Myc promoted tumorigenesis via the AKT/mTOR pathway. Furthermore, AKT inhibitor (MK-2206) or mTOR inhibitor (Rapamycin) inhibited the proliferation of c-Myc overexpressing gastric cancer cell lines. Thus, our findings highlight that gastric tumorigenesis can be induced by c-Myc overexpression through activation of the AKT/mTOR pathway.
Downloads
Download data is not yet available.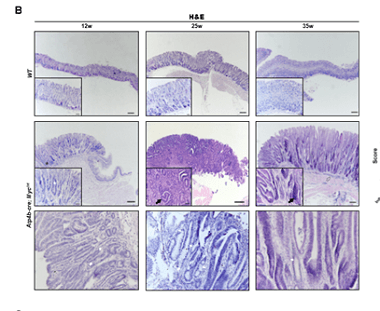 Downloads
Additional Files
How to Cite
1.
Liu J, Feng W, Liu M, Rao H, Li X, Teng Y, Yang X, Xu J, Gao W, Li L. Stomach-specific c-Myc overexpression drives gastric adenoma in mice through AKT/mammalian target of rapamycin signaling. Biomol Biomed [Internet]. 2021Aug.1 [cited 2023Jan.28];21(4):434-46. Available from: https://www.bjbms.org/ojs/index.php/bjbms/article/view/4978