Stomach-specific c-Myc overexpression drives gastric adenoma in mice through AKT/mammalian target of rapamycin signaling
Jing Liu

State Key Laboratory of Oncogenes and Related Genes, Renji Med-X Clinical Stem Cell Research Center, Ren Ji Hospital, School of Medicine and School of Biomedical Engineering, Shanghai Jiao Tong University, Shanghai, China; School of Biomedical Engineering and Med-X Research Institute, Shanghai Jiao Tong University, Shanghai, China

https://orcid.org/0000-0002-1273-3119

Wenxin Feng

State Key Laboratory of Oncogenes and Related Genes, Renji Med-X Clinical Stem Cell Research Center, Ren Ji Hospital, School of Medicine and School of Biomedical Engineering, Shanghai Jiao Tong University, Shanghai, China; School of Biomedical Engineering and Med-X Research Institute, Shanghai Jiao Tong University, Shanghai, China

Min Liu

State Key Laboratory of Oncogenes and Related Genes, Renji Med-X Clinical Stem Cell Research Center, Ren Ji Hospital, School of Medicine and School of Biomedical Engineering, Shanghai Jiao Tong University, Shanghai, China; School of Biomedical Engineering and Med-X Research Institute, Shanghai Jiao Tong University, Shanghai, China

Hanyu Rao

State Key Laboratory of Oncogenes and Related Genes, Renji Med-X Clinical Stem Cell Research Center, Ren Ji Hospital, School of Medicine and School of Biomedical Engineering, Shanghai Jiao Tong University, Shanghai, China; School of Biomedical Engineering and Med-X Research Institute, Shanghai Jiao Tong University, Shanghai, China

https://orcid.org/0000-0003-1286-8707

Xiaoxue Li

State Key Laboratory of Oncogenes and Related Genes, Renji Med-X Clinical Stem Cell Research Center, Ren Ji Hospital, School of Medicine and School of Biomedical Engineering, Shanghai Jiao Tong University, Shanghai, China; School of Biomedical Engineering and Med-X Research Institute, Shanghai Jiao Tong University, Shanghai, China

Yan Teng

State Key Laboratory of Proteomics, Beijing Proteome Research Center, National Center for Protein Sciences, Beijing Institute of Lifeomics, Beijing, China

Xiao Yang

State Key Laboratory of Proteomics, Beijing Proteome Research Center, National Center for Protein Sciences, Beijing Institute of Lifeomics, Beijing, China

https://orcid.org/0000-0002-0298-9831

Jin Xu

School of Biomedical Engineering and Med-X Research Institute, Shanghai Jiao Tong University, Shanghai, China

Weiqiang Gao

State Key Laboratory of Oncogenes and Related Genes, Renji Med-X Clinical Stem Cell Research Center, Ren Ji Hospital, School of Medicine and School of Biomedical Engineering, Shanghai Jiao Tong University, Shanghai, China; School of Biomedical Engineering and Med-X Research Institute, Shanghai Jiao Tong University, Shanghai, China

Li Li

State Key Laboratory of Oncogenes and Related Genes, Renji Med-X Clinical Stem Cell Research Center, Ren Ji Hospital, School of Medicine and School of Biomedical Engineering, Shanghai Jiao Tong University, Shanghai, China; School of Biomedical Engineering and Med-X Research Institute, Shanghai Jiao Tong University, Shanghai, China

https://orcid.org/0000-0003-2342-3658
Keywords:
c-Myc, gastric adenoma, transgenic, AKT/mammalian target of rapamycin
Abstract
Gastric cancer (GC) is one of the most common malignant cancers in the world. c-Myc, a well-known oncogene, is commonly amplified in many cancers, including gastric cancer. However, it is still not completely understood how c-Myc functions in GC. Here, we generated a stomach-specific c-Myc transgenic mouse model to investigate its role in GC. We found that overexpression of c-Myc in Atp4b+ gastric parietal cells could induce gastric adenoma in mice. Mechanistically, c-Myc promoted tumorigenesis via the AKT/mTOR pathway. Furthermore, AKT inhibitor (MK-2206) or mTOR inhibitor (Rapamycin) inhibited the proliferation of c-Myc overexpressing gastric cancer cell lines. Thus, our findings highlight that gastric tumorigenesis can be induced by c-Myc overexpression through activation of the AKT/mTOR pathway.
Downloads
Download data is not yet available.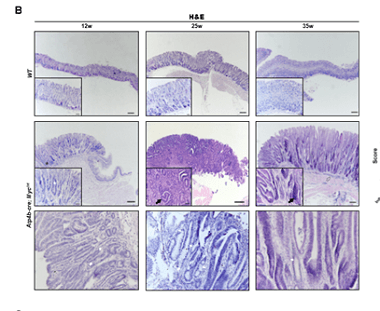 How to Cite
1.
Liu J, Feng W, Liu M, Rao H, Li X, Teng Y, Yang X, Xu J, Gao W, Li L. Stomach-specific c-Myc overexpression drives gastric adenoma in mice through AKT/mammalian target of rapamycin signaling. Bosn J of Basic Med Sci [Internet]. 2021Aug.1 [cited 2021Oct.22];21(4):434-46. Available from: https://www.bjbms.org/ojs/index.php/bjbms/article/view/4978
Copyright (c) 2020 Jing Liu, Wenxin Feng, Min Liu, Hanyu Rao, Xiaoxue Li, Yan Teng, Xiao Yang, Jin Xu, Weiqiang Gao, Li Li
This work is licensed under a Creative Commons Attribution 4.0 International License.