LncRNA SENCR suppresses abdominal aortic aneurysm formation by inhibiting smooth muscle cells apoptosis and extracellular matrix degradation
Zhou Cai

Department of General Surgery, Xiangya Hospital Central South University, Changsha, China

Jianhua Huang

Department of General Surgery, Xiangya Hospital Central South University, Changsha, China

Junxiao Yang

Department of Orthopedics, Xiangya Hospital Central South University, Changsha, China

Baihong Pan

Department of General Surgery, Xiangya Hospital Central South University, Changsha, China

Wei Wang

Department of General Surgery, Xiangya Hospital Central South University, Changsha, China

Yangyang Ou

Department of General Surgery, Xiangya Hospital Central South University, Changsha, China

Xianwei Wang

Department of General Surgery, Xiangya Hospital Central South University, Changsha, China

Pu Yang

Department of General Surgery, Xiangya Hospital Central South University, Changsha, China

https://orcid.org/0000-0001-6459-2373
Keywords:
Abdominal aortic aneurysm, lncRNA SENCR, vascular smooth muscle cells, cell apoptosis, extracellular matrix degradation
Abstract
Abdominal aortic aneurysm (AAA) is a progressive chronic dilatation of the abdominal aorta without effective medical treatment. This study aims to clarify the potential of long non-coding RNA SENCR as a treatment target in AAA. Angiotensin II (Ang-II) was used to establish AAA model in vitro and in vivo. Reverse transcription quantitative PCR and western blot were performed to measure the expression of SENCR and proteins, respectively. Annexin V-FITC/PI double staining was carried out to detect the apoptotic rate in vascular smooth muscle cells (VSMCs), and cell apoptosis in aortic tissues was determined by TUNEL staining. Besides, hematoxylin and eosin and Elastica van Gieson staining were performed for histological analysis of aortic tissues. SENCR was downregulated in AAA tissues and Ang-II-stimulated VSMCs. Overexpression of SENCR could inhibit Ang-II-induced VSMC apoptosis, while inhibition of SENCR facilitated Ang-II-induced VSMC apoptosis. Moreover, the expression of matrix metalloproteinase (MMP)-2 and MMP-9 in Ang-II-induced VSMCs was reduced following SENCR overexpression, while tissue inhibitor of metalloproteinases 1 (TIMP-1) expression was increased. In vivo, overexpression of SENCR improved the pathological change in aortic tissues and the damage in arterial wall elastic fibers induced by Ang-II, as well as suppressed Ang-II-induced cell apoptosis and extracellular matrix degradation. Overall, SENCR was decreased in AAA. Overexpression of SENCR inhibited AAA formation via inhibition of VSMC apoptosis and extracellular matrix degradation. We provided a reliable evidence for SENCR acting as a potential target for AAA treatment.
Downloads
Download data is not yet available.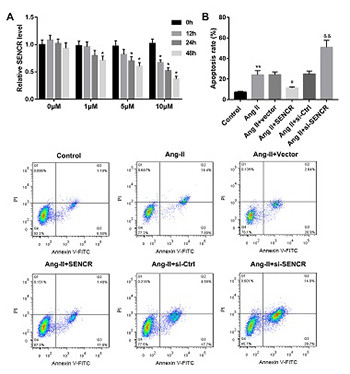 How to Cite
1.
Cai Z, Huang J, Yang J, Pan B, Wang W, Ou Y, Wang X, Yang P. LncRNA SENCR suppresses abdominal aortic aneurysm formation by inhibiting smooth muscle cells apoptosis and extracellular matrix degradation. Bosn J of Basic Med Sci [Internet]. 2021Apr.30 [cited 2021Oct.24];21(3):323-30. Available from: https://www.bjbms.org/ojs/index.php/bjbms/article/view/4994
Section
Molecular Biology
Copyright (c) 2020 Zhou Cai, Jianhua Huang, Junxiao Yang, Baihong Pan, Wei Wang, Yangyang Ou, Xianwei Wang, Pu Yang
This work is licensed under a Creative Commons Attribution 4.0 International License.