The role of glycogen synthase kinase 3 (GSK3) in cancer with emphasis on ovarian cancer development and progression: A comprehensive review
Mislav Glibo

Department of Biology, School of Medicine, University of Zagreb, Zagreb, Croatia

https://orcid.org/0000-0002-2007-3018

Alan Serman

Centre of Excellence in Reproductive and Regenerative Medicine, University of Zagreb School of Medicine, Zagreb, Croatia; Department of Obstetrics and Gynecology, School of Medicine, University of Zagreb, Zagreb, Croatia; Clinic of Obstetrics and Gynecology, Clinical Hospital "Sveti Duh", Zagreb, Croatia

https://orcid.org/0000-0002-7027-0861

Valentina Karin-Kujundzic

Department of Biology, School of Medicine, University of Zagreb, Zagreb, Croatia; Centre of Excellence in Reproductive and Regenerative Medicine, University of Zagreb School of Medicine, Zagreb, Croatia

Ivanka Bekavac Vlatkovic

Centre of Excellence in Reproductive and Regenerative Medicine, University of Zagreb School of Medicine, Zagreb, Croatia; Department of Obstetrics and Gynecology, School of Medicine, University of Zagreb, Zagreb, Croatia; Clinic of Obstetrics and Gynecology, Clinical Hospital "Sveti Duh", Zagreb, Croatia

https://orcid.org/0000-0001-7561-9770

Berivoj Miskovic

Centre of Excellence in Reproductive and Regenerative Medicine, University of Zagreb School of Medicine, Zagreb, Croatia; Department of Obstetrics and Gynecology, School of Medicine, University of Zagreb, Zagreb, Croatia; Clinic of Obstetrics and Gynecology, Clinical Hospital "Sveti Duh", Zagreb, Croatia

Semir Vranic

College of Medicine, QU Health, Qatar University, Doha, Qatar

https://orcid.org/0000-0001-9743-7265

Ljiljana Serman

Department of Biology, School of Medicine, University of Zagreb, Zagreb, Croatia; Centre of Excellence in Reproductive and Regenerative Medicine, University of Zagreb School of Medicine, Zagreb, Croatia

https://orcid.org/0000-0003-2721-1281
Keywords:
GSK3, ovarian cancer, therapeutic target
Abstract
Glycogen synthase kinase 3 (GSK3) is a monomeric serine-threonine kinase discovered in 1980 in a rat skeletal muscle. It has been involved in various cellular processes including embryogenesis, immune response, inflammation, apoptosis, autophagy, wound healing, neurodegeneration, and carcinogenesis. GSK3 exists in two different isoforms, GSK3α and GSK3β, both containing seven antiparallel beta-plates, a short linking part and an alpha helix, but coded by different genes and variously expressed in human tissues. In the current review, we comprehensively appraise the current literature on the role of GSK3 in various cancers with emphasis on ovarian carcinoma. Our findings indicate that the role of GSK3 in ovarian cancer development cannot be decisively determined as the currently available data support both prooncogenic and tumor-suppressive effects. Likewise, the clinical impact of GSK3 expression on ovarian cancer patients and its potential therapeutic implications are also limited. Further studies are needed to fully elucidate the pathophysiological and clinical implications of GSK3 activity in ovarian cancer.
Downloads
Download data is not yet available.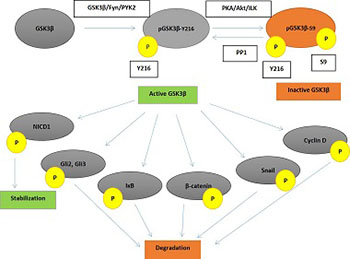 How to Cite
1.
Glibo M, Serman A, Karin-Kujundzic V, Bekavac Vlatkovic I, Miskovic B, Vranic S, Serman L. The role of glycogen synthase kinase 3 (GSK3) in cancer with emphasis on ovarian cancer development and progression: A comprehensive review. Bosn J of Basic Med Sci [Internet]. 2021Feb.1 [cited 2022Jan.18];21(1):5-18. Available from: https://www.bjbms.org/ojs/index.php/bjbms/article/view/5036
Copyright (c) 2020 Mislav Glibo, Alan Serman, Valentina Karin-Kujundzic, Ivanka Bekavac Vlatkovic, Berivoj Miskovic, Semir Vranic, Ljiljana Serman
This work is licensed under a Creative Commons Attribution 4.0 International License.