Alectinib and lorlatinib function by modulating EMT-related proteins and MMPs in NSCLC metastasis
Keywords:
ALK, alectinib, lorlatinib, VIM, FN1, MMPs
Abstract
Most advanced non-small cell lung cancer (NSCLC) patients are accompanied by brain metastasis which is the major cause of increased mortality. The fusion rearrangement of anaplastic lymphoma kinase (ALK) gene is an important feature of brain metastasis in lung cancer. The novel ALK inhibitors alectinib and lorlatinib are shown to be effective against NSCLC brain metastasis, while their underlying mechanism of action is unclear. Epithelial–mesenchymal transition (EMT) proteins and matrix metalloproteinases (MMPs) play important roles in brain metastasis by regulating the blood-brain barrier (BBB). To reveal the molecular function of alectinib and lorlatinib, we explored their effects on the cellular levels of EMT markers: VIM and FN1 and the matrix metalloproteinases MMP-9 and MMP-7. The mRNA and protein levels of VIM, FN1, MMP-9, and MMP-7 were elevated in H3122 cells. However, upon alectinib and lorlatinib treatment, the levels were significantly reduced. Similar results were obtained when these experiments were performed either in a dose-dependent or time-dependent manner. Furthermore, alectinib and lorlatinib also inhibited the cell viability and migration of H3122 cells. Interestingly, in comparison to individual drugs, the combination of alectinib and lorlatinib was found to be substantially more effective. Overall, these results suggest that alectinib and lorlatinib possibly function through the downregulation of MMPs and EMT in NSCLC metastasis.
Downloads
Download data is not yet available.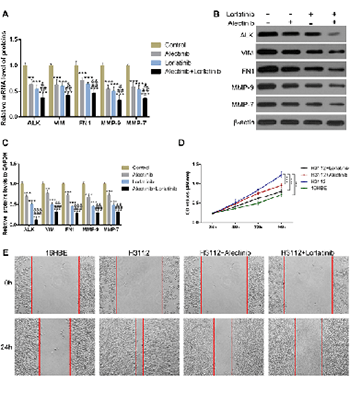 Downloads
Additional Files
How to Cite
1.
Feng X, Xu E-S. Alectinib and lorlatinib function by modulating EMT-related proteins and MMPs in NSCLC metastasis. Biomol Biomed [Internet]. 2021Jun.1 [cited 2023Dec.5];21(3):331-8. Available from: https://www.bjbms.org/ojs/index.php/bjbms/article/view/5066
Section
Molecular Biology