Can NLR, PLR and LMR be used as prognostic indicators in patients with pulmonary embolism? Author's reply on commentary
Nuri Kose

Private Yuvelen Hospital

https://orcid.org/0000-0001-8658-2598

Tarık Yıldırım

Department of Cardiology, Faculty of Medicine, Balikesir University, Balikesir, Turkey

Fatih Akın

Department of Cardiology, Faculty of Medicine, Mugla Sitki Kocman University, Mugla, Turkey

Seda Elçim Yıldırım

Department of Cardiology, Faculty of Medicine, Mugla Sitki Kocman University, Mugla, Turkey

Ibrahim Altun

Department of Cardiology, Faculty of Medicine, Mugla Sitki Kocman University, Mugla, Turkey
Keywords:
neutrophil-lymphocyte-ratio, platelet-lymphocyte-ratio, monocyte-lymphocyte-ratio, NLR, PLR, MLR
Abstract
We appreciate the comments made by Dr Bedel and colleagues. NLR, PLR and LMR are affected by various diseases such as oncological, collagen tissue, inflammatory, or severe renal/liver diseases [1]. Because of this, we have listed some of the above-mentioned disorders in the tables. Hematological diseases, collagen tissue disease, inflammatory diseases, congenital heart disease, or severe renal/liver disease were therefore excluded from the study. However, the presence of malignancy did not affect our results in regression analysis.
Platelets swell until 120 minutes in ethylene diamine tetra acetic (EDTA) and until 60 minutes in citrate [2]. Authors suggest that optimal measuring time should not exceed 120 minutes. The blood samples of the patients were taken within 1 hour after their emergency admission. All blood samples in our study were tested within 1 hour of collection [3]. We used EDTA for whole blood anticoagulation. The mean duration of symptoms prior to admission was 5.04 ± 6.9 days.
The drugs such as corticosteroids affect inflammatory parameters. Therefore, we excluded inflammatory diseases without emphasizing corticosteroids or other anti-inflammatory drugs.
Downloads
Download data is not yet available.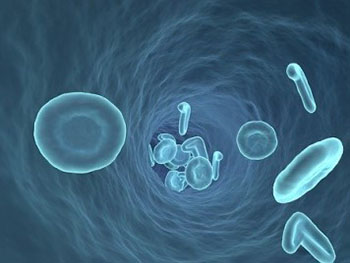 How to Cite
1.
Kose N, Yıldırım T, Akın F, Elçim Yıldırım S, Altun I. Can NLR, PLR and LMR be used as prognostic indicators in patients with pulmonary embolism? Author's reply on commentary. Bosn J of Basic Med Sci [Internet]. 2021Aug.1 [cited 2022Jan.18];21(4):502. Available from: https://www.bjbms.org/ojs/index.php/bjbms/article/view/5292
Copyright (c) 2020 Nuri Kose, Tarık Yıldırım, Fatih Akın, Seda Elçim Yıldırım, Ibrahim Altun
This work is licensed under a Creative Commons Attribution 4.0 International License.