Significance of chromogranin A and synaptophysin in medullary thyroid carcinoma
Keywords:
Calcitonin, chromogranin A, immunohistochemistry, medullary thyroid carcinoma, multiple endocrine neoplasm, neuroendocrine tumorsd, synaptophysin, thyroid
Abstract
Medullary thyroid carcinoma (MTC) is a relatively rare thyroid carcinoma of C-cell deviation and produces and secrete calcitonin (CT) and chromogranin A (CgA) into the blood. Thus, both CT and CgA are immunohistochemical and serum markers for MTCs. MTC occurs in both sporadic and inheritable cases and the hallmark of inheritable cases in multiple endocrine neoplasm 2 (NEN2) is MTC. MEN2 cases represent 30% of MTCs through germline RET protooncogene mutation and occur in younger ages involving bilateral thyroid lobes. Sporadic cases are 70% of cases of solitary tumor and occur in older ages. CgA and synaptophysin (SPY) are the two, most widely used and reliable immunohistochemical markers for neuroendocrine tumors including MTCs. This study aimed to detect different immunohistochemical staining patterns for CgA and SPY between non-symptomatic small, microscopic lesions and invading larger aggressive tumors in both MEA2 cases and sporadic cases. There was different CgA and SPY immunostaining in MEA2 cases where small tumors (≤ 0.3 cm) were lesser immunostained for CgA and SPY, despite strong staining for CT, compared to the larger (≥ 0.5cm) tumors, stronger immunostained for CgA. There was also different CgA and SPY immunohistochemical staining in sporadic cases between small lesion (≤ 0.5 cm) and larger tumors (≥ 1.0cm). One small sporadic tumor (0.5 x 0.3 cm) was strongly and weakly, patchy (about 10% of tumor tissue) stained for CgA and SPY, respectively, while larger sporadic tumors were diffusely, stronger stained for CgA and SPY. Therefore, stronger CgA and SPY immunostaining for larger tumors in both MEA2 and sporadic cases may be used as independent aggressive immunohistochemical markers for MTCs.
Downloads
Download data is not yet available.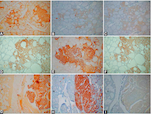 Downloads
Additional Files
How to Cite
1.
Tomita T. Significance of chromogranin A and synaptophysin in medullary thyroid carcinoma. Biomol Biomed [Internet]. 2021Oct.1 [cited 2023Feb.6];21(5):535-41. Available from: https://www.bjbms.org/ojs/index.php/bjbms/article/view/5407
License
Copyright (c) 2020 Tatsuo Tomita
This work is licensed under a Creative Commons Attribution 4.0 International License.