Quantitative detection of circulating MT-ND1 as a potential biomarker for colorectal cancer
Yichun Xu

Shanghai National Engineering Research Center for Biochip at Shanghai and Shanghai Biochip Limited Corporation, Shanghai, China; Department of Pathology, Shanghai Tongji Hospital, Tongji Hospital Affiliated to Tongji University, Shanghai, China

https://orcid.org/0000-0002-7339-1693

Jiajing Zhou

Shanghai National Engineering Research Center for Biochip at Shanghai and Shanghai Biochip Limited Corporation, Shanghai, China

Qing Yuan

Shanghai National Engineering Research Center for Biochip at Shanghai and Shanghai Biochip Limited Corporation, Shanghai, China

https://orcid.org/0000-0003-0297-854X

Jun Su

Shanghai National Engineering Research Center for Biochip at Shanghai and Shanghai Biochip Limited Corporation, Shanghai, China 2Department of Pathology, Shanghai Tongji Hospital, Tongji Hospital Affiliated to Tongji University, Shanghai, China

https://orcid.org/0000-0002-7509-4836

Qian Li

Shanghai National Engineering Research Center for Biochip at Shanghai and Shanghai Biochip Limited Corporation, Shanghai, China 2Department of Pathology, Shanghai Tongji Hospital, Tongji Hospital Affiliated to Tongji University, Shanghai, China

Xiaoliang Lu

Shanghai National Engineering Research Center for Biochip at Shanghai and Shanghai Biochip Limited Corporation, Shanghai, China

https://orcid.org/0000-0003-1870-7314

Liwen Zhang

Shanghai National Engineering Research Center for Biochip at Shanghai and Shanghai Biochip Limited Corporation, Shanghai, China 2Department of Pathology, Shanghai Tongji Hospital, Tongji Hospital Affiliated to Tongji University, Shanghai, China

https://orcid.org/0000-0002-6304-0312

Zhai Cai

Department of General Surgery, Zhujiang Hospital, Southern Medical University, Guangzhou, China

Junsong Han

Shanghai National Engineering Research Center for Biochip at Shanghai and Shanghai Biochip Limited Corporation, Shanghai, China

https://orcid.org/0000-0002-9405-9382
Keywords:
MT-ND1, colorectal cancer, mtDNA, cfDNA, biomarker
Abstract
Liquid biopsy represents a diagnostic and monitoring tool and the circulating cell-free mitochondrial DNA (mtDNA) plays a vital role in tumor diagnosis and dynamic assessment. Colorectal cancer (CRC) is one of the most common fatal cancers worldwide. Mitochondrially encoded NADH dehydrogenase subunit 1 (MT-ND1) encodes the biggest subunit of respiratory complex I of mtDNA, and mutations in the MT-ND1 are common in CRC. We sought to determine if mutations in circulating MT-ND1 could be a potential biomarker for colorectal cancer. In this study, twenty-two CRC patients at Zhujiang Hospital were included. We mainly used droplet digital PCR to determine the mutation status of MT-ND1, combined with clinical data. In the experiment in vivo, cell-free mtDNA generally presented high concordance with tumor tissues. By quantitative PCR, the MT-ND1 content of plasma in CRC patients was significantly higher than that in healthy individuals (58.01 vs. 0.64, p=0.027). The detection of circulating MT-ND1 content and variants (m.3606 A>G, m.3970 C>T, m.4071 C>T, m.4086 C>T) in cfDNA showed a good correlation with predicted tumor response and progression to chemotherapy. In conclusion, the content and variants of circulating MT-ND1 may become a versatile tool for the diagnosis and monitoring of colorectal cancer.
Downloads
Download data is not yet available.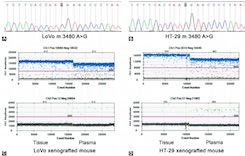 How to Cite
1.
Xu Y, Zhou J, Yuan Q, Su J, Li Q, Lu X, Zhang L, Cai Z, Han J. Quantitative detection of circulating MT-ND1 as a potential biomarker for colorectal cancer. Bosn J of Basic Med Sci [Internet]. 2021Oct.1 [cited 2021Oct.19];21(5):577-86. Available from: https://www.bjbms.org/ojs/index.php/bjbms/article/view/5576
Section
Molecular Biology
Copyright (c) 2021 Yichun Xu, Jiajing Zhou, Qing Yuan, Jun Su, Qian Li, Xiaoliang Lu, Liwen Zhang, Zhai Cai, Junsong Han
This work is licensed under a Creative Commons Attribution 4.0 International License.