How are central foveal and choroidal thickness affected in patients with mild COVID-19 infection?
Keywords:
Covid-19, central foveal thickness, optical coherence tomography, choroidal thickness,
Abstract
The aim of this study was to evaluate the effects of  COVID-19 on central foveal and choroidal thicknesses. Thirty-two patients with a positive SARS-CoV-2 PCR test who received outpatient treatment within the previous two months and 32 healthy controls were included in the study. Patients requiring hospitalization due to COVID-19 as well as the patients who received either intensive care support and/or antiplatelet therapy, smokers, or patients with systemic or ocular diseases were excluded from the study. After full ophthalmological examination, central foveal and choroidal thicknesses were evaluated by using optical coherence tomography. Statistical analysis of the study data demonstrated no significant difference between the groups in terms of age or gender (p>0.05). There was also no statistically significant difference between the groups in terms of central foveal thickness, central choroidal thickness, or nasal 500, nasal 1500, temporal 500, or temporal 500-micron distances (p>0.05 for all parameters). Choroidal and retinal thicknesses were not affected in patients with recent mild COVID 19 without comorbidities.
Downloads
Download data is not yet available.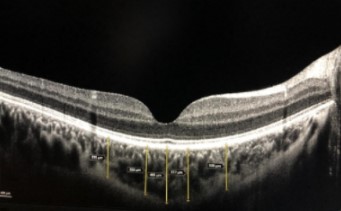 Downloads
Additional Files
How to Cite
1.
Fırat M, Kobat S. How are central foveal and choroidal thickness affected in patients with mild COVID-19 infection? . Biomol Biomed [Internet]. 2021Dec.1 [cited 2023Sep.23];21(6):782-6. Available from: https://www.bjbms.org/ojs/index.php/bjbms/article/view/5840
Section
New and Emerging Medical Entities