Prevalence of and risk factors for high-risk human papillomavirus infection: a population-based study from Hetian, Xinjiang, China
Keywords:
Human papillomavirus, HPV, genotype, Hetian
Abstract
Human papillomavirus (HPV) infection contributes to most cases of cervical cancer, and HPV genotypes exhibit different distributions according to geographic region. This study evaluates the prevalence of HPV infection in Hetian Prefecture, Xinjiang, and establishes risk factors associated with high-risk HPV (HR-HPV) genotypes in this region. In this cross-sectional, population-based study, 883 healthy women 15-54 years of age were enrolled. All participants completed a questionnaire regarding sociocultural and sexual activity characteristics. Visual inspections with acetic acid, colposcopies and biopsies were performed using the Preventive Oncology International microbiopsy protocol for pathological diagnosis. Cervical epithelial tissue specimens were collected and tested for HPV using linear array assays. According to the results of HR-HPV infection status, individuals infected with HR-HPV were classified into one group, and the remaining individuals were classified into the control group. The risk factors for HR-HPF infection were analyzed. The participants included 66 women (7.47%) with HR-HPV, 10 women (1.13%) with low-risk HPV, and 14 women (1.59%) with HPV of unknown risk. The five most prevalent types of HR-HPV were HPV-16 (0.31%), HPV-51 (0.08%), HPV-31 (0.07%), HPV-58 (0.07%), and HPV-39 (0.06%). Vulvovaginal ulcers and vulvovaginal inflammation were found in 190 participants (21.52%) and 256 participants (28.99%), respectively. The HR-HPV and control groups significantly differed with respect to age at first marriage, number of marriages, and the presence of vulvovaginal ulcers and vulvovaginal inflammation (p<0.05). Based on this study, an immunization strategy targeting HPV-16 should be prioritized in Hetian Prefecture. These findings contribute to the understanding of HPV infection.
Downloads
Download data is not yet available.
References
Woodman CB, Collins SI, Young LS. The natural history of cervical HPV infection: unresolved issues. Nat Rev Cancer 2007;7:11–22.
http://dx.doi.org/10.1038/nrc2050
Hoste G, Vossaert K, Poppe WAJ. The Clinical Role of HPV Testing in Primary and Secondary Cervical Cancer Screening. Obstet Gynecol Int 2013; 2013:610373.
http://dx.doi.org/10.1155/2013/610373
Forouzanfar MH, Foreman KJ, Delossantos AM, Lozano R, Lopez AD, Murray CJ, et al. Breast and cervical cancer in 187 countries between 1980 and 2010: a systematic analysis. Lancet 2011;378:1461-1484.
http://dx.doi.org/10.1016/S0140-6736(11)61351-2
Boffetta P, Parkin DM. Cancer in developing countries. CA Cancer J Clin 1994; 44: 81–90.
http://dx.doi.org/10.3322/canjclin.44.2.81
Bzhalava D, Guan P, Franceschi S, Dillner J, Clifford G. A systematic review of the prevalence of mucosal and cutaneous human papillomavirus types. Virology 2013;445:224–31.
http://dx.doi.org/10.1016/j.virol.2013.07.015
Clifford GM, Smith JS, Plummer M. Human papillomavirus types in invasive cervical cancer worldwide: a metaanalysis. Br J Cancer 2003;88:63–73.
http://dx.doi.org/10.1038/sj.bjc.6600688
Muňoz N, Bosch X, de Sanjosé S, Herrero R, Castellsagué X, Shah KV, et al. Epidemiologic classification of Human Papilloma Virus types associated with cervical cancer. N Engl J Med 2003;348:518-527.
http://dx.doi.org/10.1056/NEJMoa021641
International Collaboration of Epidemiological Studies of Cervical Cancer. Cervical cancer and hormonal contraceptives: collaborative reanalysis of individual data for 16,573 women with cervical cancer and 35,509 women without cervical cancer from24 epidemiological studies. Lancet 2007;370:1609–1621.
http://dx.doi.org/10.1016/S0140-6736(07)61684-5
Li S, Hu T, Lv W, Zhou H, Li X, Yang R, et al. Changes in Prevalence and Clinical Characteristics of Cervical Cancer in the People's Republic of China: A Study of 10,012 Cases from a Nationwide Working Group. Oncologist 2013;18:1101-1107.
http://dx.doi.org/10.1634/theoncologist.2013-0123
Sun LL, Jin Q, Li H, Zhou XR, Song ZQ, Cheng XM, et al. Population-based study on the prevalence of and risk factors for human papillomavirus infection in Qujing of Yunnan province, Southwest China. Virol J 2012;9:153.
http://dx.doi.org/10.1186/1743-422X-9-153
Li JK, Mei J, Wang XD, Hu L, Lin Y, Yang P. Human Papillomavirus Type-Specific Prevalence in Women with Cervical Intraepithelial Neoplasm in Western China. J Clin Microbiol 2012;50:1079-1081.
http://dx.doi.org/10.1128/JCM.06214-11
de Villiers EM, Fauquet C, Broker TR, Bernard HU, zur Hausen H. Classification of papillomaviruses. Virology 2004;324:17-27.
http://dx.doi.org/10.1016/j.virol.2004.03.033
Zhao R, Zhang WY, Wu MH, Zhang SW, Pan J, Zhu L, et al. Human papillomavirus infection in Beijing, People's Republic of China: a population-based study. Br J Cancer 2009;101:1635-1640.
http://dx.doi.org/10.1038/sj.bjc.6605351
Tran LT, Tran LT, Bui TC, Le DT, Nyitray AG, Markham CM, et al. Risk factors for high-risk and multi-type Human Papillomavirus infections among women in Ho Chi Minh City, Vietnam: a cross-sectional study. BMC Womens Health 2015;15:172-177.
http://dx.doi.org/10.1186/s12905-015-0172-7
Guettiti H, Ennaifer E, Attia L, Chelly D, Alaya NB, Aissa RB, et al. Pre-vaccination prevalence and genotype distribution of human papillomavirus infection among women from urban Tunis: a cross-sectional study. Asian Pac J Cancer Prev 2014;15:9361-9365.
http://dx.doi.org/10.7314/APJCP.2014.15.21.9361
Stoler MH, Austin RM, Zhao C. Cervical cancer screening should be done by primary HPV testing with genotyping and reflex cytology for women over the age of 25 years. J Clin Microbiol 2015; pii: JCM.01087-15 [Epub ahead of print].
Tanton C, Soldan K, Beddows S, Mercer CH, Waller J, Field N, et al. High-Risk Human Papillomavirus (HPV) Infection and Cervical Cancer Prevention in Britain: Evidence of Differential Uptake of Interventions from a Probability Survey. Cancer Epidemiol Biomarkers Prev 2015;24:842-853.
http://dx.doi.org/10.1158/1055-9965.EPI-14-1333
de Sanjosé S, Diaz M, Castellsagué X, Clifford G, Bruni L, Mu-oz N, et al. Worldwide prevalence and genotype distribution of cervical human papillomavirus DNA in women with normal cytology: a meta-analysis. Lancet Infect Dis 2007;7:453-459.
http://dx.doi.org/10.1016/S1473-3099(07)70158-5
Chen Z, Meng W, DU R, Zhu Y, Zhang Y, Ding Y. Genotype distribution and the relative risk factors for human papillomavirus in Urumqi, China. Exp Ther Med 2013;6:85-90.
Vamos CA, Calvo AE, Daley EM, Giuliano AR, López Castillo H. Knowledge, Behavioral, and Sociocultural Factors Related to Human Papillomavirus Infection and Cervical Cancer Screening Among Inner-City Women in Panama. J Community Health, 2015 May [Epub ahead of print].
http://dx.doi.org/10.1007/s10900-015-0030-4
Monsonego J, Cox JT, Behrens C, Sandri M, Franco EL, Yap PS, et al. Prevalence of high-risk human papilloma virus genotypes and associated risk of cervical precancerous lesions in a large U.S. screening population: Data from the ATHENA trial. Gynecol Oncol 2015;137:47-54.
http://dx.doi.org/10.1016/j.ygyno.2015.01.551
Sreedevi A, Javed R, Dinesh A. Epidemiology of cervical cancer with special focus on India. Int J Womens Health 2015;16:405-414.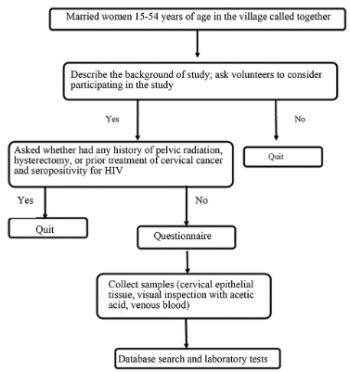 Downloads
Additional Files
How to Cite
1.
Niyazi M, Husaiyin S, Han L, Mamat H, Husaiyin K, Wang L. Prevalence of and risk factors for high-risk human papillomavirus infection: a population-based study from Hetian, Xinjiang, China. Biomol Biomed [Internet]. 2016Jan.1 [cited 2023Jan.27];16(1):46-51. Available from: https://www.bjbms.org/ojs/index.php/bjbms/article/view/593
Section
Translational and Clinical Research