EWSR1 rearrangement in papillary thyroid microcarcinoma is related to classic morphology and the presence of small-cell phenotype
Bozidar Kovacevic

Institute of Pathology and Forensic Medicine, Military Medical Academy

https://orcid.org/0000-0002-3270-0170

Ana Caramelo

Ipatimup Diagnostics, Institute of Molecular Pathology and Immunology of Porto University, Ipatimup, Porto, Portugal

https://orcid.org/0000-0002-5625-9703

Vesna Skuletic

Institute of Pathology and Forensic Medicine, Military Medical Academy, Belgrade, Serbia

https://orcid.org/0000-0002-1942-7149

Snezana Cerovic

Institute of Pathology and Forensic Medicine, Military Medical Academy, Belgrade, Serbia

https://orcid.org/0000-0002-1649-2092

Catarina Eloy

Ipatimup Diagnostics, Institute of Molecular Pathology and Immunology of Porto University, Ipatimup, Porto, Portugal; Medical Faculty, University of Porto, Porto, Portugal
Keywords:
Papillary thyroid carcinoma, small cells, EWSR1, EWSR-FLI1, carcinoma of the thyroid, Ewing family tumor elements
Abstract
The EWSR1 rearrangements with unknown genes were detected in a high percentage of classic variants of papillary thyroid carcinoma. The small-cell carcinoma of the thyroid with Ewing family tumor elements (CEFTE) typically presents with EWSR1-FLI1 rearrangement suggesting the possible role of EWSR-FLI1 translocation in the loss of thyroid differentiation and acquisition of a small-cell phenotype. In order to determine the frequency and association of EWSR1 rearrangements, particularly the EWSR1-FLI1 fusion with clinicopathological features of papillary thyroid microcarcinoma (m-PTC) and the presence of small cells, we analyzed a series of 99 m-PTCs using the fluorescence in situ hybridization method.  Ninety cases (90.9%) of m-PTC were positive for small cells. This group of m-PTC has shown more often invasive growth, lymphatics invasion, and moderate/extended intratumoral fibrosis. Three cases out of 99 were inconclusive for EWSR1 rearrangement. Eighty-nine (92.7%) and twenty-seven (28.1%) out of 96 m-PTC cases were positive for EWSR1 rearrangement and EWSR1-FLI1 fusion, respectively. m-PTC with classical architectural pattern presented more frequently with EWSR1 rearrangement relative to m-PTC with other patterns (p = 0.005). Other clinicopathological features were not related to the presence of EWSR1 rearrangement or EWSR1-FLI1 fusion. The percentage of small cells present significantly correlated with the percentage of cells positive for EWSR1-FLI1 fusion (p = 0.05) and EWSR1 rearrangement (p <0.001). EWSR1-FLI1 fusion is not rare in m-PTC and it is associated with the acquisition of small-cell phenotype. The EWSR1 gene rearrangement is a frequent event in m-PTC and is related to the classical pattern of m-PTC.
Downloads
Download data is not yet available.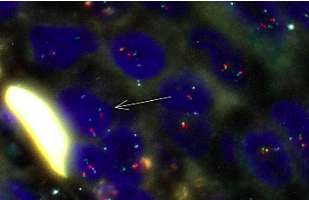 How to Cite
1.
Kovacevic B, Caramelo A, Skuletic V, Cerovic S, Eloy C. EWSR1 rearrangement in papillary thyroid microcarcinoma is related to classic morphology and the presence of small-cell phenotype. Bosn J of Basic Med Sci [Internet]. 2021Aug.9 [cited 2021Oct.20];. Available from: https://www.bjbms.org/ojs/index.php/bjbms/article/view/6181
Copyright (c) 2021 Bozidar Kovacevic, Ana Caramelo, Vesna Skuletic, Catarina Eloy, Snezana Cerovic
This work is licensed under a Creative Commons Attribution 4.0 International License.