Quercetin ameliorates testosterone secretion disorder by inhibiting endoplasmic reticulum stress through the miR-1306-5p/HSD17B7 axis in diabetic rats
Keywords:
Quercetin, endoplasmic reticulum stress, miR-1306-5p, HSD17B7, the JAK2/STAT3 axis
Abstract
Testicular damage and testosterone secretion disorder are associated with diabetes mellitus. Quercetin,  a common flavonoid, has antioxidant, anti-cancer,  and blood sugar lowering effects. Therefore, this study aims to investigate the effect of quercetin on the reproductive system of male rats with diabetes in vivo and in vitro and elucidate its mechanism. Streptozotocin (STZ)  induction was used to establish a diabetes model in forty male Sprague Dawley (SD) rats, which were subsequently administered with 20 or 50 mg/kg of quercetin. Leydig cells of rat testes were treated by high glucose (HG) followed by 5 or 10 μM quercetin. Two doses of quercetin increased rat body weight and testicular weight, decreased blood glucose,and inhibited oxidative stress. RT-qPCR and Western blotting revealed that quercetin alleviated STZ-induced testicular damage and promoted testosterone synthesis. Both doses of quercetin reduced ROS and MDA levels, and increased SOD level in HG-treated cells. Both, in vivo and in vitro results confirmed that a high dose of quercetin was more effective. MiR-1306-5p was upregulated in testicular tissue of diabetic rats and HG-treated cells. 17β-hydroxysteroid dehydrogenase (HSD17B7) was a target of miR-1306-5p and HSD17B7 was downregulated in STZ-induced rat tissues and HG-treated cells. HSD17B7 overexpression reversed the increase of C/EBP homologous protein (CHOP) and glucose-regulated protein 78 (Grp78) protein levels as well as eIF2α phosphorylation level and promotion of cell apoptosis caused by miR-1306-5p overexpression. Moreover, overexpression of HSD17B7 activated the Janus kinase 2 (JAK2)/signal transducer and activator of transcription 3 (STAT3) axis in HG-treated cells. In conclusion, quercetin inhibits ER stress and improves testosterone secretion disorder through the miR-1306-5p/HSD17B7 axis in diabetic rats.
Downloads
Download data is not yet available.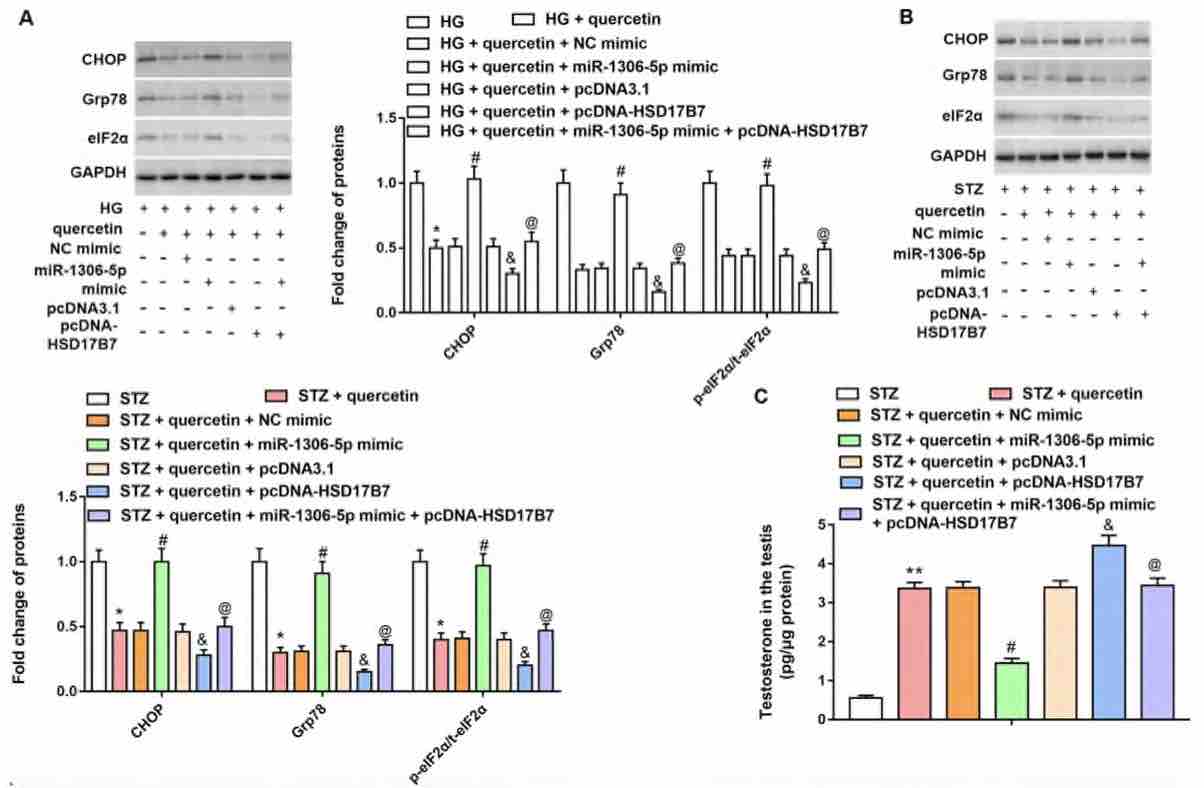 Downloads
Additional Files
How to Cite
1.
Wang D, Li Y, Zhai Q- qian, Zhu Y- feng, Liu B- yan, Xu Y. Quercetin ameliorates testosterone secretion disorder by inhibiting endoplasmic reticulum stress through the miR-1306-5p/HSD17B7 axis in diabetic rats. Biomol Biomed [Internet]. 2022Apr.1 [cited 2023Jun.2];22(2):191-204. Available from: https://www.bjbms.org/ojs/index.php/bjbms/article/view/6299
Section
Molecular Biology