Osteoarthritis of the knee - biochemical aspect of applied therapies: a review
Keywords:
Knee osteoarthritis, prostaglandin, non-steroidal anti-inflammatory drugs, symptomatic slow-acting drugs for OA, corticosteroids, bisphosphonates
Abstract
The most prevalent form of arthritis is osteoarthritis (OA) of the knee, which is characterized by a degeneration of articular cartilage resulting in the development of osteophytes, or bone spurs. Main goals of OA treatment are to reduce pain, slow the disease progression, and improve joint function and the quality of life. The purpose of this study was to verify all the therapies recommended by the European Society for Clinical and Economic Aspects of Osteoporosis and Osteoarthritis (ESCEO) from the biochemical point of view. Non-steroidal anti-inflammatory drugs (NSAIDs) inhibit the synthesis of eicosanoids, whereas paracetamol prevents the production of prostaglandin (PG) by interacting with peroxidase (POX) site of the prostaglandin H2 synthase complex. Tramadol is an opioid that has a dual mechanism of action: it binds to the μ-opioid receptor and it inhibits serotonin and adrenaline. Corticosteroids, which are also prescribed for OA pain, inhibit the activity of phospholipase A2 and block the synthesis of arachidonate-derived eicosanoids. Symptomatic slow-acting drugs for osteoarthritis (SYSADOA) are drugs that are well tolerated by patients and help to restore proteoglycan matrix of the cartilage. These drugs include compounds that naturally build articular cartilage. The articular cartilage, as well as the bone located around the cartilage, are destroyed as osteoarthritis progresses. Thus, bisphosphonates, commonly used in the treatment of osteoporosis, were evaluated as potential therapy. However, there is no official recommendation for their use in therapy. The aim of the study was to analyze the biochemical mechanisms of principal drugs used for the treatment of knee OA. Therefore, a narrative review summarizing the current knowledge regarding the applied therapies was prepared.
Downloads
Download data is not yet available.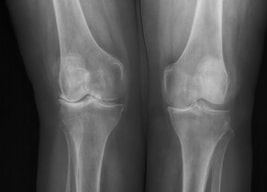 Downloads
Additional Files
How to Cite
1.
Horecka A, Hordyjewska A, Blicharski T, Kurzepa J. Osteoarthritis of the knee - biochemical aspect of applied therapies: a review. Biomol Biomed [Internet]. 2022Jul.29 [cited 2023Dec.1];22(4):488-9. Available from: https://www.bjbms.org/ojs/index.php/bjbms/article/view/6489
License
Copyright (c) 2022 Anna Horecka, Anna Hordyjewska, Tomasz Blicharski, Jacek Kurzepa
This work is licensed under a Creative Commons Attribution 4.0 International License.