Circular RNA circ_0020014 contributes to osteoarthritis progression via miR-613/ADAMTS5 axis
Keywords:
ADAMTS5, miR-613, circ_0020014, osteoarthritis
Abstract
Circular RNAs (circRNAs) have been shown to be significant regulators in osteoarthritis (OA), whereas the functional effect of circ_0020014 in OA remains unclear. Our goal was to try and understand the underlying regulatory mechanism of circ_0020014 in OA. The cartilage tissue was obtained from OA patients and trauma patients. Interleukin-1β (IL-1β)-treated chondrocytes (CHON-001) were used as the in vitro cellular model for OA. The expression levels of circ_0020014, microRNA-613 (miR-613), and a disintegrin and metalloproteinase with thrombospondin motifs 5 (ADAMTS5) were examined by real-time quantitative polymerase chain reaction (RT-qPCR). The protein level was detected using the western blot assay. Cell viability and apoptosis were measured by 3-(4, 5-dimethylthiazol-2-yl)-2, 5-diphenyl-2H-tetrazol-3-ium bromide (MTT) and flow cytometry assays, respectively. The secretion of inflammatory cytokine was determined by enzyme-linked immunosorbent assay (ELISA). Circ_0020014 was upregulated in OA cartilage tissues and IL-1β-treated CHON-001 cells, compared with that in healthy cartilage tissues and untreated cells. IL-1β treatment induced cell injury by promoting inflammation and apoptosis, and inhibiting cell viability and extracellular matrix (ECM) accumulation in chondrocytes. Circ_0020014 knockdown significantly protected CHON-001 cells from IL-1β-induced cell dysfunction. MiR-613 was targeted by circ_0020014 and negatively regulated ADAMTS5 expression. In addition, miR-613 downregulation or ADAMTS5 overexpression partly lessened the protective effect of circ_0020014 knockdown on IL-1β-treated CHON-001 cells. Collectively, circ_0020014 acted as a miR-613 sponge to regulate ADAMTS5 expression, thereby protecting chondrocytes from IL-1β-induced inflammatory damage, which might be a novel diagnostic marker for OA.
Downloads
Download data is not yet available.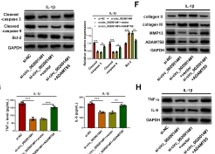 Downloads
Additional Files
How to Cite
1.
Yu Z, Cong F, Zhang W, Song T, Zhang S, Jiang R. Circular RNA circ_0020014 contributes to osteoarthritis progression via miR-613/ADAMTS5 axis. Biomol Biomed [Internet]. 2022Sep.16 [cited 2023Sep.23];22(5):716-27. Available from: https://www.bjbms.org/ojs/index.php/bjbms/article/view/6668
Section
Molecular Biology
License
Copyright (c) 2022 Zirui Yu, Fei Cong, Wentao Zhang, Tao Song, Shihui Zhang, Renqi Jiang
This work is licensed under a Creative Commons Attribution 4.0 International License.