miR-212-3p attenuates neuroinflammation of rats with Alzheimer's disease via regulating the SP1/BACE1/NLRP3/Caspase-1 signaling pathway
Keywords:
Alzheimer's disease, miR-212-3p, SP1, BACE1, NLRP3/Caspase-1 signaling pathway, Pyroptosis, Transcription factor, Neuroinflammation, Aβ1-42; Pathological injury
Abstract
Alzheimer's disease (AD) ranks as the leading cause of dementia. MicroRNA (miR)-212-3p has been identified to exert neuroprotective effects on brain disorders. The current study analyzed the protective role of miR-212-3p in AD rats via regulating the nucleotide-binding oligomerization domain-like receptor family pyrin domain containing 3 (NLRP3)/Caspase-1 signaling pathway. The AD rat model was established via injection of amyloid-β 1-42 (Aβ1-42), followed by the Morris water maze test. The morphology and functions of neurons were observed. Furthermore, miR-212-3p, NLRP3, cleaved Caspase-1, gasdermin D N-terminus, interleukin (IL)-1β and IL-18 expressions were measured. H19-7 cells were treated with Aβ1-42 to establish the AD cell model, followed by an assessment of cell viability and pyroptosis. Downstream targets of miR-212-3p and specificity protein 1 (SP1), as well as beta-site amyloid precursor protein cleaving enzyme 1 (BACE1) were predicted by databases and testified using dual-luciferase and chromatin immunoprecipitation assays. miR-212-3p was weakly expressed in AD rats. miR-212-3p overexpression was linked to improved learning and memory capacities of AD rats and reduced neuronal pyroptosis linked to neuroinflammation attenuation. In vitro, miR-212-3p improved viability and suppressed pyroptosis of neurons via inhibiting NLRP3/Caspase-1. Overall, miR-212-3p inhibited SP1 expression to block BACE1-induced activation of NLRP3/Caspase-1, thereby attenuating neuroinflammation of AD rats.
Downloads
Download data is not yet available.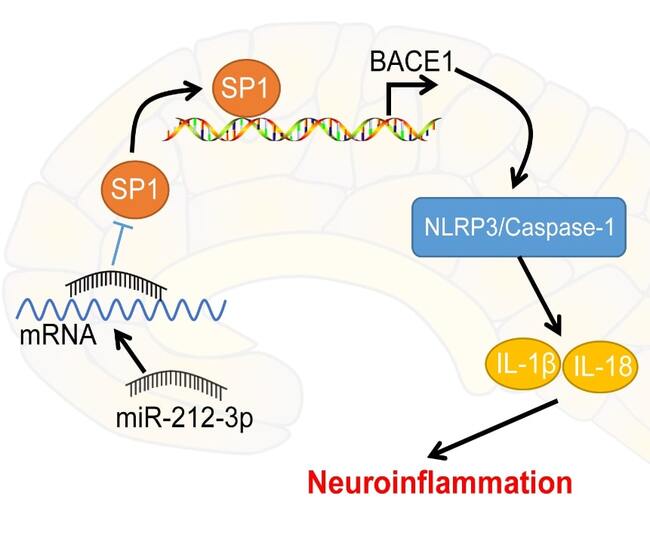 Downloads
How to Cite
1.
Nong W, Bao C, Chen Y, Wei Z. miR-212-3p attenuates neuroinflammation of rats with Alzheimer's disease via regulating the SP1/BACE1/NLRP3/Caspase-1 signaling pathway. Bosn J of Basic Med Sci [Internet]. 2022Feb.12 [cited 2022May24];. Available from: https://www.bjbms.org/ojs/index.php/bjbms/article/view/6723
Section
Molecular Biology