Predictors of COVID-19 severity among pregnant patients
Keywords:
COVID-19, pregnancy, SARS-CoV-2, clinical course, predictors, disease severity, lymphocytopenia, hypocalcemia, low total protein, inflammation biomarkers
Abstract
Coronavirus disease 2019 (COVID-19) was declared a pandemic and has spread around the globe, unsparingly affecting vulnerable populations. Effective prevention measures for pregnant women, who are particularly affected, include early identification of those patients at risk of developing in-hospital complications, and the continuous improvement of maternal-fetal treatment strategies to ensure the efficient use of health resources. The objective of our retrospective study was to determine which patient biomarkers on hospital admission correlate with disease severity as measured by disease course classification, the need for oxygen supplementation and higher demand for oxygen, the need for mechanical ventilation, intensive care unit admission, and length of hospital stay. Analysis of 52 PCR SARS-CoV-2 positive pregnant women revealed that the median date of hospital admission was the 30th gestational week, with dyspnoea, cough, and fever as the leading symptoms. The presence of diabetes and hypertension predisposed pregnant women to the severe course of illness. Lung involvement shown by CT scans on admission correlated with the greater clinical severity. The main laboratory predictors of disease progression were lymphocytopenia, hypocalcemia, low total cholesterol, low total protein levels, and high serum levels of C-reactive protein, ferritin, interleukin-6, glucose, lactate dehydrogenase, procalcitonin, and troponin I. Further research with a larger cohort of pregnant women is needed to determine the utility of these results for everyday practice.
Downloads
Download data is not yet available.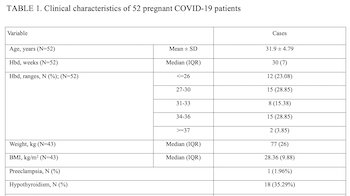 Downloads
Additional Files
How to Cite
1.
Januszewski M, Ziuzia-Januszewska L, Jakimiuk AA, Oleksik T, Pokulniewicz M, Wierzba W, Kozlowski K, Jakimiuk AJ. Predictors of COVID-19 severity among pregnant patients. Biomol Biomed [Internet]. 2022Oct.23 [cited 2023Feb.4];22(6):1005-1. Available from: https://www.bjbms.org/ojs/index.php/bjbms/article/view/7181
Section
New and Emerging Medical Entities
License
Copyright (c) 2022 Marcin Januszewski, Laura Ziuzia-Januszewska, Alicja A. Jakimiuk, Tomasz Oleksik, Marek Pokulniewicz, Waldemar Wierzba, Krzysztof Kozlowski, Artur J. Jakimiuk
This work is licensed under a Creative Commons Attribution 4.0 International License.