Do glucagonomas always produce glucagon?
Keywords:
Glucagonoma, neuroendocrine tumours, NETs, hyperglucagonemia, GLP-1, Proglucagon
Abstract
Pancreatic islet α-cell tumours that overexpress proglucagon are typically associated with the glucagonoma syndrome, a rare disease entity characterised by necrolytic migratory erythema, impaired glucose tolerance, thromboembolic complications and psychiatric disturbances. Paraneoplastic phenomena associated with enteric overexpression of proglucagon-derived peptides are less well recognized and include gastrointestinal dysfunction and hyperinsulinaemic hypoglycaemia. The diverse clinical manifestations associated with glucagon-expressing tumours can be explained, in part, by the repertoire of tumorally secreted peptides liberated through differential post-translational processing of tumour-derived proglucagon. Proglucagon-expressing tumours may be divided into two broad biochemical subtypes defined by either secretion of glucagon or GLP-1, GLP-2 and the glucagon-containing peptides, glicentin and oxyntomodulin, due to an islet α-cell or enteroendocrine L-cell pattern of proglucagon processing, respectively. In the current review we provide an updated overview of the clinical presentation of proglucagon-expressing tumours in relation to known physiological actions of proglucagon-derived peptides and suggest that detailed biochemical characterisation of the peptide repertoire secreted from these tumours may provide new opportunities for diagnosis and clinical management.    
Downloads
Download data is not yet available.
References
Kaltsas GA, Besser GM, Grossman AB. The Diagnosis and Medical Management of Advanced Neuroendocrine Tumors. Endocrine Reviews. 2004;25(3):458-511.
Economopoulos P., Christopoulos C. Glucagonoma. Annals of Gastroenterology 2007;23(1):23-33.
Öberg K. Neuroendocrine gastro-enteropancreatic tumors – from eminence based to evidence-based medicine – A Scandinavian view. Scandinavian journal of gastroenterology. 2015;50(6):727-39.
Yu R, Ren S-G, Mirocha J. Glucagon receptor is required for long-term survival: A natural history study of the Mahvash disease in a murine model. Endocrinología y Nutrición. 2012;59(9):523-30.
Ito T, Igarashi H, Jensen RT. Pancreatic neuroendocrine tumors: Clinical features, diagnosis and medical treatment: Advances. Best Practice & Research Clinical Gastroenterology.26(6):737-53.
Zhang K, Lehner LJ, Praeger D, Baumann G, Knebel F, Quinkler M, et al. Glucagonoma-induced acute heart failure. Endocrinology, Diabetes & Metabolism Case Reports. 2014;2014:140061.
Chang-Chretien K, Chew JT, Judge DP. Reversible dilated cardiomyopathy associated with glucagonoma. Heart. 2004;90(7):e44-e.
Guimarães M, Rodrigues P, Pereira SS, Nora M, Gonçalves G, Albrechtsen NW, et al. GLP1 and glucagon co-secreting pancreatic neuroendocrine tumor presenting as hypoglycemia after gastric bypass. Endocrinology, Diabetes & Metabolism Case Reports. 2015;2015:150049.
Brubaker PL, Drucker DJ, Asa SL, Swallow C, Redston M, Greenberg GR. Prolonged Gastrointestinal Transit in a Patient with a Glucagon-Like Peptide (GLP)-1- and -2-Producing Neuroendocrine Tumor. The Journal of Clinical Endocrinology & Metabolism. 2002;87(7):3078-83.
Iglesias P, Diez JJ. Management of endocrine disease: a clinical update on tumor-induced hypoglycemia. European journal of endocrinology / European Federation of Endocrine Societies. 2014;170(4):R147-57.
van Beek AP, de Haas ER, van Vloten WA, Lips CJ, Roijers JF, Canninga-van Dijk MR. The glucagonoma syndrome and necrolytic migratory erythema: a clinical review. European journal of endocrinology / European Federation of Endocrine Societies. 2004;151(5):531-7.
Roy SM, Coughlin CC, Adzick NS, Yan AC, Rubin AI, Leon DDD. Iatrogenic Necrolytic Migratory Erythema in an Infant Receiving Glucagon Therapy for Congenital Hyperinsulinism. Late-breaking Pediatric Endocrinology I2015. p. LBT-028-LBT-.
MB; L, VE; Y, R Y. Mahvash Disease: Pancreatic Neuroendocrine Tumor Syndrome Caused by Inactivating Glucagon Receptor Mutation. J Mol Genet Med. 2013;7(84. ).
Zhang M X, Shen Y, Hu ZH, Wu LM, Zheng SS. Clinical experience in diagnosis and treatment of glucagonoma syndrome. Hepatobiliary Pancreat Dis Int. 2004;3(3):473-5.
Ruttimann EB, Arnold M, Hillebrand JJ, Geary N, Langhans W. Intrameal hepatic portal and intraperitoneal infusions of glucagon-like peptide-1 reduce spontaneous meal size in the rat via different mechanisms. Endocrinology. 2009;150(3):1174-81.
Holst JJ, Guldberg Madsen O, Knop J, Schmidt A. The effect of intraportal and peripheral infusions of glucagon on insulin and glucose concentrations and glucose tolerance in normal man. Diabetologia. 1977;13(5):487-90.
Wermers RA, Fatourechi V, Wynne AG, Kvols LK, Lloyd RV. The glucagonoma syndrome. Clinical and pathologic features in 21 patients. Medicine (Baltimore). 1996;75(2):53-63.
Ito T, Igarashi H, Jensen RT. Pancreatic neuroendocrine tumors: clinical features, diagnosis and medical treatment: advances. Best practice & research Clinical gastroenterology. 2012;26(6):737-53.
Wewer Albrechtsen NJ, Kuhre RE, Deacon CF, Holst JJ. Targeting the intestinal L-cell for obesity and type 2 diabetes treatment. Expert Review of Endocrinology & Metabolism. 2014;9(01):61-72.
Holst JJ. Incretin hormones and the satiation signal. International journal of obesity (2005). 2013;37(9):1161-8.
Holst JJ. Glucagon and glucagon-like peptides 1 and 2. Results ProblCell Differ. 2010;50:121-35. doi: 10.1007/400_2009_35.:121-35.
Holst JJ. The Physiology of Glucagon-like Peptide 1. Physiological Reviews. 2007;87(4):1409-39.
Pocai A. Action and therapeutic potential of oxyntomodulin. Molecular Metabolism. 2014;3(3):241-51.
Drucker DJ, Yusta B. Physiology and Pharmacology of the Enteroendocrine Hormone Glucagon-Like Peptide-2. Annual Review of Physiology. 2014;76(1):561-83.
Holst JJ, Bersani M, Johnsen AH, Kofod H, Hartmann B, Orskov C. Proglucagon processing in porcine and human pancreas. The Journal of biological chemistry. 1994;269(29):18827-33.
Orskov C, Rabenhoj L, Wettergren A, Kofod H, Holst JJ. Tissue and plasma concentrations of amidated and glycine-extended glucagon-like peptide I in humans. Diabetes. 1994;43(4):535-9.
Kuhre RE, Albrechtsen NW, Windelov JA, Svendsen B, Hartmann B, Holst JJ. GLP-1 amidation efficiency along the length of the intestine in mice, rats and pigs and in GLP-1 secreting cell lines. Peptides. 2014;55:52-7.
Kawai K, Yokota C, Ohashi S, Watanabe Y, Yamashita K. Evidence that glucagon stimulates insulin secretion through its own receptor in rats. Diabetologia. 1995;38(3):274-6.
Meier JJ, Ueberberg S, Korbas S, Schneider S. Diminished glucagon suppression after β-cell reduction is due to impaired α-cell function rather than an expansion of α-cell mass. American Journal of Physiology - Endocrinology and Metabolism. 2011;300(4):E717-E23.
Wewer Albrechtsen N, Hartmann B, Veedfald S, Windeløv J, Plamboeck A, Bojsen-Møller K, et al. Hyperglucagonaemia analysed by glucagon sandwich ELISA: nonspecific interference or truly elevated levels? Diabetologia. 2014:1-8.
Holst JJ, Pedersen JH, Baldissera F, Stadil F. Circulating glucagon after total pancreatectomy in man. Diabetologia. 1983;25(5):396-9.
Roberts RE, Zhao M, Whitelaw BC, Ramage J, Diaz-Cano S, Roux
CWl, et al. GLP-1 and Glucagon Secretion from a Pancreatic Neuroendocrine Tumor Causing Diabetes and Hyperinsulinemic Hypoglycemia. The Journal of Clinical Endocrinology & Metabolism. 2012;97(9):3039-45.
Todd JF, Stanley SA, Roufosse CA, Bishop AE, Khoo B, Bloom SR, et al. A tumour that secretes glucagon-like peptide-1 and somatostatin in a patient with reactive hypoglycaemia and diabetes. The Lancet. 2003;361(9353):228-30.
Byrne MM, McGregor GP, Barth P, Rothmund M, Göke B, Arnold R. Intestinal Proliferation and Delayed Intestinal Transit in a Patient with a GLP-1-, GLP-2- and PYY-Producing Neuroendocrine Carcinoma. Digestion. 2001;63(1):61-8.
Patti M-E, Goldfine A. Hypoglycemia after Gastric Bypass: The Dark Side of GLP-1. Gastroenterology. 2014;146(3):605-8.
Baldissera FG, Holst JJ, Knuhtsen S, Hilsted L, Nielsen OV. Oxyntomodulin (glicentin-(33-69)): pharmacokinetics, binding to liver cell membranes, effects on isolated perfused pig pancreas, and secretion from isolated perfused lower small intestine of pigs. RegulPept. 1988;21(1-2):151-66.
Schjoldager BT, Baldissera FG, Mortensen PE, Holst JJ, Christiansen J. Oxyntomodulin: a potential hormone from the distal gut. Pharmacokinetics and effects on gastric acid and insulin secretion in man. EurJClinInvest. 1988;18(5):499-503.
Wynne K, Park AJ, Small CJ, Patterson M, Ellis SM, Murphy KG, et al. Subcutaneous oxyntomodulin reduces body weight in overweight and obese subjects: a double-blind, randomized, controlled trial. Diabetes. 2005;54(8):2390-5.
Hashimoto N, Ohyanagi H, Kazuyuki S. Effect of glicentin on gut mucosal growth in rats with jejunal and ileal Thiry-vella fistulas. Journal of Pediatric Surgery. 2003;38(4):579-84.
Bloom SR. An enteroglucagon tumour. Gut. 1972;13(7):520-3.
Gleeson MH, Bloom SR, Polak JM, Henry K, Dowling RH. Endocrine tumour in kidney affecting small bowel structure, motility, and absorptive function. Gut. 1971;12(10):773-82.
Jeppesen PB, Hartmann B, Thulesen J, Graff J, Lohmann J, Hansen BS, et al. Glucagon-like peptide 2 improves nutrient absorption and nutritional status in short-bowel patients with no colon. Gastroenterology. 2001;120(4):806-15.
Jones B, Fishman EK, Bayless TM, Siegelman SS. Villous hypertrophy of the small bowel in a patient with glucagonoma. J Comput Assist Tomogr. 1983;7(2):334-7.
Lax E, Leibovici V, Fields SI, Gordon RL. Neglected radiologic signs of the glucagonoma syndrome. Diagnostic imaging in clinical medicine. 1986;55(6):321-6.
Holst JJ. Molecular heterogeneity of glucagon in normal subjects and in patients with glucagon-producing tumours. Diabetologia. 1983;24(5):359-65.
Ali S, Ussher JR, Baggio LL, Kabir MG, Charron MJ, Ilkayeva O, et al. Cardiomyocyte glucagon receptor signaling modulates outcomes in mice with experimental myocardial infarction. Molecular Metabolism. 2015;4(2):132-43.
Ussher JR, Drucker DJ. Cardiovascular Actions of Incretin-Based Therapies. Circulation Research. 2014;114(11):1788-803.
Green JB, Bethel MA, Armstrong PW, Buse JB, Engel SS, Garg J, et al. Effect of Sitagliptin on Cardiovascular Outcomes in Type 2 Diabetes. New England Journal of Medicine. 2015;373(3):232-42.
Scirica BM, Bhatt DL, Braunwald E, Steg PG, Davidson J, Hirshberg B, et al. Saxagliptin and Cardiovascular Outcomes in Patients with Type 2 Diabetes Mellitus. New England Journal of Medicine. 2013;369(14):1317-26.
Donath MY. Targeting inflammation in the treatment of type 2 diabetes: time to start. Nat Rev Drug Discov. 2014;13(6):465-76.
Ellingsgaard H, Hauselmann I, Schuler B, Habib AM, Baggio LL, Meier DT, et al. Interleukin-6 enhances insulin secretion by increasing glucagon-like peptide-1 secretion from L cells and alpha cells. Nat Med. 2011;17(11):1481-9.
Bak MJ, Albrechtsen NW, Pedersen J, Hartmann B, Christensen M, Vilsbøll T, et al. Specificity and sensitivity of commercially available assays for glucagon and oxyntomodulin measurement in humans. European Journal of Endocrinology. 2014;170(4):529-38.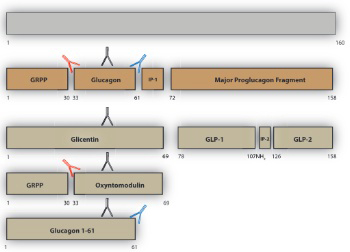 Downloads
Additional Files
How to Cite
1.
Wewer Albrechtsen NJ, Challis B, Damjanov I, Holst JJ. Do glucagonomas always produce glucagon?. Biomol Biomed [Internet]. 2016Feb.1 [cited 2023Jun.6];16(1):1-7. Available from: https://www.bjbms.org/ojs/index.php/bjbms/article/view/794