Eucalyptus globulus extract protects upon acetaminophen-induced kidney damages in male rat
Keywords:
Acetaminophen, eucalyptus globulus, oxidative stress, kidney
Abstract
Plants have historically been used in treating many diseases. Eucalyptus globules, a rich source of bioactive compounds, and have been shown to possess antioxidative properties. The purpose of this study, carried out on male Wistar rats, was to evaluate the beneficial effects of Eucalyptus globulus extract upon acetaminophen-induced damages in kidney. Our study is realized in the Department of Biology, Faculty of Sciences of Sfax (Tunisia). 32 Wistar male rats; were divided into 4 batches: a control group (n=8), a group of rats treated with acetaminophen (900 mg/kg) by intraperitoneal injection during 4 days (n=8), a group receiving Eucalyptus globulus extract (130 mg of dry leaves/kg/day) in drinking water during 42 days after 2 hours of acetaminophen administration (during 4 days) (n=8) and group received only Eucalyptus (n=8) during 42 days. After 6 weeks, animals from each group were rapidly sacrificed by decapitation. Blood serum was obtained by centrifugation. Under our experimental conditions, acetaminophen poisoning resulted in an oxidative stress evidenced by statistically significant losses in the activities of catalase (CAT), superoxide-dismutase (SOD), glutathione-peroxidase (GPX) activities and an increase in lipids peroxidation level in renal tissue of acetaminophen-treated group compared with the control group. Acetaminophen also caused kidneydamage as evident by statistically significant (p<0.05) increase in levels of creatinine and urea and decreased levels of uric acid and proteins in blood. Histological analysis demonstrated alteration of proximal tubules, atrophy of the glomerule and dilatation of urinary space. Previous administration of plant extract is found to alleviate this acetaminophen-induced damage.
Downloads
Download data is not yet available.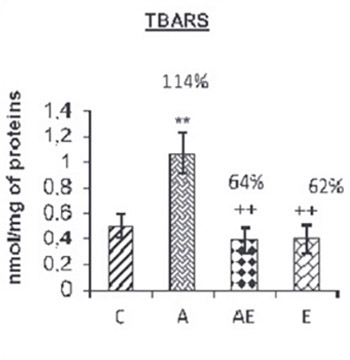 Downloads
Additional Files
How to Cite
1.
Dhibi S, Mbarki S, Elfek A, Hfaiedh N. Eucalyptus globulus extract protects upon acetaminophen-induced kidney damages in male rat. Bosn J of Basic Med Sci [Internet]. 2014May20 [cited 2022Nov.29];14(2):99-104. Available from: https://www.bjbms.org/ojs/index.php/bjbms/article/view/2272