Ameliorative effect of vanadium on oxidative stress in stomach tissue of diabetic rats
Keywords:
Vanadium, diabetes, stomach, oxidative stress, antioxidant
Abstract
Between their broad spectrum of action, vanadium compounds are shown to have insulin mimetic/enhancing effects. Increasing evidence in experimental and clinical studies suggests that oxidative stress plays a major role in the pathogenesis of diabetes and on the onset of diabetic complications. Thus, preventive therapy can alleviate the possible side effects of the disease. The aim of the present study was to investigate the effect of vanadyl sulfate supplementation on the antioxidant system in the stomach tissue of diabetic rats. Male Swiss albino rats were randomly divided into 4 groups: control; control+vanadyl sulfate; diabetic; diabetic+vanadyl sulfate. Diabetes was induced by intraperitoneal injection of streptozotocin (STZ; 65 mg/kg body weight). Vanadyl sulfate (100 mg/kg body weight) was given daily by gavage for 60 days. At the last day of the experiment, stomach tissues were taken and homogenized to make a 10% (w/v) homogenate. Catalase (CAT), superoxide dismutase (SOD), glutathione reductase (GR), glutathione peroxidase (GPx), glutathione-S-transferase (GST), myeloperoxidase (MPO), carbonic anhydrase (CA), glucose-6-phosphate dehydrogenase (G6PD) and lactate dehydrogenase (LDH) activities were determined in the stomach tissue. CAT, SOD, GR, GPx, GST, CA, G6PD and LDH activities were increased in diabetic rats when compared to normal rats. Vanadium treatment significantly reduced the elevated activities of GR, GPx, GST compared with the diabetic group whereas the decreases in CAT, SOD, CA, G6PD and LDH activities were insignificant. No significant change was seen for MPO activity between the groups. It was concluded that vanadium could be used for its ameliorative effect against oxidative stress in diabetes.
Downloads
Download data is not yet available.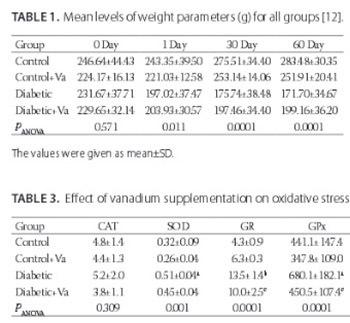 Downloads
Additional Files
How to Cite
1.
Yilmaz-Ozden T, Kurt-Sirin O, Tunali S, Akev N, Can A, Yanardag R. Ameliorative effect of vanadium on oxidative stress in stomach tissue of diabetic rats. Bosn J of Basic Med Sci [Internet]. 2014May20 [cited 2022Dec.2];14(2):105-9. Available from: https://www.bjbms.org/ojs/index.php/bjbms/article/view/2273