Induction of apoptosis by grape seed extract (Vitis vinifera) in oral squamous cell carcinoma
Amirala Aghbali

Department of Oral and Maxillofacial Pathology, Faculty of Dentistry, Tabriz University of Medical Sciences

Sepideh Vosough Hosseini

Department of Oral and Maxillofacial Pathology, Faculty of Dentistry, Tabriz University of Medical Sciences

Abbas r Delaza

Drug Applied Research Center, Tabriz University of Medical Sciences

Nader Kalbasi Gharavi

Department of Oral and Maxillofacial Pathology, Faculty of Dentistry, Tabriz University of Medical Sciences

Fatemeh Zare Shahneh

Immunology Research Center, Tabriz University of Medical Sciences

Mona Orangi

Immunology Research Center, Tabriz University of Medical Sciences

Ali Bandehagh

Drug Applied Research Center, Tabriz University of Medical Sciences

Behzad Baradaran

Drug Applied Research Center, Tabriz University of Medical Sciences
Keywords:
cytotoxicity, apoptosis, Anticancer, oral squamous cell carcinoma, grape seed extract
Abstract
Development of novel therapeutic modalities is crucial for the treatment of oral squamous cell carcinoma (OSCC). Recent scientific studies have been focused on herbal medicines as potent anti-cancer drug candidates. This study is the first to investigate the cytotoxic effects and the mechanism of cell death induced by grape seed extract (GSE) in oral squamous cell carcinoma (KB cells). MTT (3-(4,5-dimetylthiazol-2-yl)-2,5 diphenyltetrazolium bromide) and trypan blue assays were performed in KB cells as well as human umbilical vein endothelial cells (HUVEC) were used to analyze the cytotoxic activity of GSE. Furthermore, the apoptosis-inducing action of the extract was determined by TUNEL, DNA fragmentation and cell death analysis. Statistical significance was determined by analysis of variance (ANOVA), followed by Duncan's test at a significance level of P≤0.05. The results showed apoptotic potential of GSE, confirmed by significant inhibition of cell growth and viability in a dose- and time- dependent manner without inducing damage to non-cancerous cell line HUVEC. The results of this study suggest that this plant contains potential bioactive compound(s) for the treatment of oral squamous cell carcinoma.
Downloads
Download data is not yet available.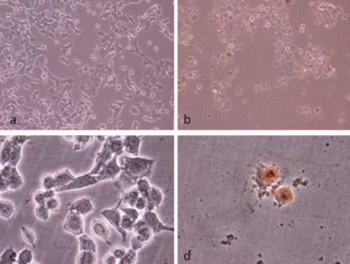 How to Cite
1.
Aghbali A, Vosough Hosseini S, Delaza A r, Kalbasi Gharavi N, Zare Shahneh F, Orangi M, Bandehagh A, Baradaran B. Induction of apoptosis by grape seed extract (Vitis vinifera) in oral squamous cell carcinoma. Bosn J of Basic Med Sci [Internet]. 2013Aug.20 [cited 2021Oct.24];13(3):186-91. Available from: https://www.bjbms.org/ojs/index.php/bjbms/article/view/2360