Low molecular weight heparin prevents CLP-Induced acute lung injury in rats by anti-inflammatory coagulation
Keywords:
HMGB-1, low molecular weight heparin, sepsis, lung injury
Abstract
The aim of our study was to observe the influence of low molecular Weight heparin (LMWH) on systemic inflammation, including high mobility group box 1 protern (HMGB1) and protective effect on acute lung injury induced by cecal ligation and puncture(CLP). Discuss the mechanism of this effect. 144 male SD rats were randomly divided into sham operation group (A), normal treatment group (B), the LMWH treatment group (C), n=48. Group A received a sham operation and the other groups were underwent CLP operation. Groups A and B accepted intraperitoneal injection (i.p.) of normal saline (NS) at a dose of 2.oml/kg and ceftriaxone (30 mg/kg), Group C were intraperitoneal injection additional LMWH (isoU/kg) except saline and ceftriaxone. Observe points were made at 3, 6, 12, 18, 24, 48 h, the rats were anesthetized and killed, mortality, lungs wet/dry ratio and Pathology change were determined. HMGB-1 mRNA, protein of lung tissues was calculated by RT-PCR and Western blot. TNF-α and IL-6 of blood plasma calculated by ELSIA. There was significantly different in each index between A and B group (p<0.05). Compared with CLP group, there was a significant decrease in the lung injury, the mortality, HMGB1 mRNA and protein expression on lung tissues (p<0.05). LMWH can decreases cytokine, HMGB1 levels of lung tissue during CLP-induced inflammation. As a result, LMWH ameliorated lung pathology and reduces mortality in CLP-induced systemic inflammation in a rat model. This effect may be mediated through the inhibition of axis of inflammation and coagulation.
Downloads
Download data is not yet available.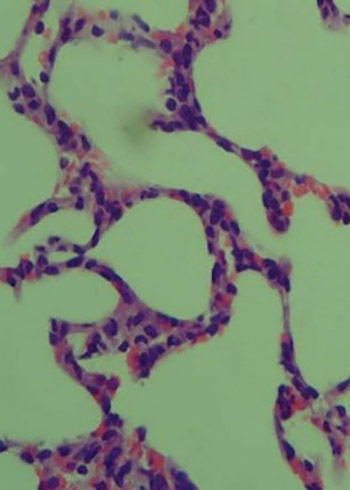 Downloads
How to Cite
1.
Lu X, Zhao L, Xu Y-H. Low molecular weight heparin prevents CLP-Induced acute lung injury in rats by anti-inflammatory coagulation. Biomol Biomed [Internet]. 2013Feb.20 [cited 2023Jun.6];13(1):50-6. Available from: https://www.bjbms.org/ojs/index.php/bjbms/article/view/2419