The effect of subcutaneous Insulin-like Growth Factor-1 (IGF-1) injection on rabbit auricular cartilage autograft viability
Keywords:
auricle, rabbit, cartilage, autograft, IGF-1
Abstract
Insulin-like Growth Factor-1 (IGF-1) is one of the significant substances affecting the growth and development of cartilage tissue in the body. The aim of this study is to evaluate the possible histopathological effects of local IGF-1 injection on the viability of rabbit auricular cartilage autografts.
To this end, the single-piece and sliced cartilage tissues obtained from 20 albino rabbits' auricula were implanted in the subcutaneous pockets created on the back skins of the experimental animals. Every two weeks IGF-1 (10 mg/ml) injections were performed on the autograft implants of one group and normal saline (0.9%) injections were performed on the other group. Experimental animals were sacrificed at the end of the third month. A total of 34 tissue samples obtained after dissection were evaluated and scored histopathologically according to their cartilage viability, environmental reaction, and regenerative activities.
The intergroup evaluation carried out for the single-piece and sliced cartilage grafts revealed that there was statistically more cartilage viability and less foreign-body reaction in the IGF-1 group than the normal saline group (p<0.05).
While there was a statistically significant difference between the groups for single-piece grafts regarding regenerative activity (p<0.05), there was no significant difference for sliced grafts. The IGF-1 group, however, showed more activity.
The results we obtained point out to the fact that IGF-1 increases the tissue viability of the implanted auricular autograft and it suppresses immune modulation effect.
Downloads
Download data is not yet available.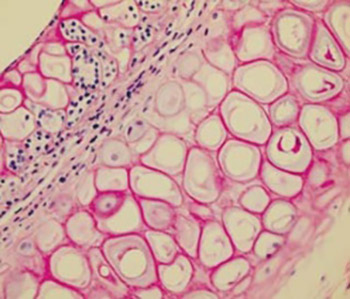 Downloads
Additional Files
How to Cite
1.
Kaan Beriat G, Halit Akmansu S, Dogan C, Ezerarslan H, Han U, Saglam M, Okan Senel O, Kocaturk S. The effect of subcutaneous Insulin-like Growth Factor-1 (IGF-1) injection on rabbit auricular cartilage autograft viability. Biomol Biomed [Internet]. 2012Nov.20 [cited 2023Sep.28];12(4):213-8. Available from: https://www.bjbms.org/ojs/index.php/bjbms/article/view/2440