Contractile responses of urinary bladder in an experimental model of chronic renal failure
Keywords:
Chronic kidney disease, lower urinary tract dysfunction, in vitro study
Abstract
Chronic kidney disease is a public health problem with increasing prevalence caused by diabetes, hypertension and glomerulonephritis. Number of publications investigate the lower urinary tract dysfunction due to CKD is limited. There is a high incidence of bladder dysfunction of different degrees in patients with renal failure. Mechanism of the lower urinary tract dysfunction in these patients is not well known. In this study, we aimed to investigate the effects of CKD on detrusor function in a rat model of CKD.
In our study, 20 Wistar Albino rats have been divided into two groups as CKD and control groups. To the experiment group, left partial nephrectomy and right nephrectomy have been applied. CKD confirmation has done with the BUN and creatinin values from the blood of the rats. The bladder strips were prepared from the CKD and control groups and its contractile responses were evaluated in-vitro. There wasn't a considerable difference with the contractile responses caused by carbachol, KCL. There was a considerable increase in the contractile responses caused by ATP, ADP and electrical field stimulation on the behalf of the CKD group.
The present study demonstrated that isolated DSM of CKD group showed significantly increased contraction responses to purinergic agonists ADP, ATP and atropine resistant component in electrical field stimulation-induced contractions as compared to those of the control group. Bladder overactivity and reduced bladder volume in CKD patients might be due to the change in purinergic system.
Downloads
Download data is not yet available.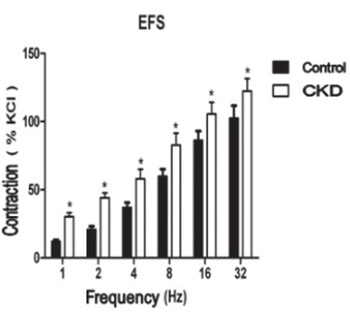 Downloads
Additional Files
How to Cite
1.
Biçer H, Korgali E, Gökçe G, Ayan S, Yıldırım Şahin, Gültekin EY. Contractile responses of urinary bladder in an experimental model of chronic renal failure. Biomol Biomed [Internet]. 2012Nov.20 [cited 2023Feb.4];12(4):219-23. Available from: https://www.bjbms.org/ojs/index.php/bjbms/article/view/2441
Section
Short Communication