The significance of MGMT protein detection in evaluation of osteosarcoma necrosis rate after cisplatin chemotherapy
Keywords:
osteosarcoma, MGMT protein, CDDP
Abstract
The aim of this article was to investigate the correlation between expression of O6-methylguanine-DNA methyltransferase (MGMT) in osteosarcoma and the curative effect of alkylating agent (Cis-diaminodichloroplatinum, CDDP). 42 male patients and 34 female patients with a median age of 17 years (9 to 43 years) were eligible for this study. According to histopathological types, there were 3 cases of telangiectatic osteogenic sarcoma, 22 cases of osteoblastic, 11 cases of chondroblastic and 16 cases of fibroblastic sarcoma. Immunohistochemical method was used to detect the expression of MGMT protein. The correlations between MGMT expression and the curative effect of CDDP on osteosarcoma have been investigated. It was shown by immunohistochemical staining that among 76 osteosarcoma biopsy specimens, 52 (68%) cases were positive, 27 (35%) cases were weak positive, 18 (24%), cases were moderate positive, and 7 (9%) cases were strong positive. There were no significant differences in MGMT expression among different pathological types of tumors (p>0.5). After CDDP chemotherapy, among pathologic specimens in which MGMT expression was positive, necrosis rates were as follows: grade I, 5 cases (38%); grade II, 7 cases (25%); grade III, 15 cases (21%); grade IV, 2 cases (23%). Osteosarcoma necrosis rate was low when the expression of MGMT protein was positive, whereas necrosis rate was high when there was a low level of MGMT expression (p<0.01). There was a significant negative correlation between the level of MGMT expression in osteosarcoma tissue and osteosarcoma necrosis rate after cisplatin chemotherapy.
Downloads
Download data is not yet available.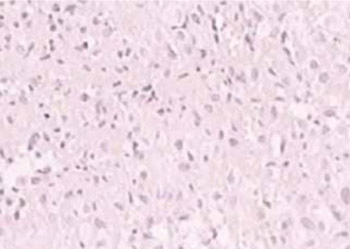 Downloads
Additional Files
How to Cite
1.
Cui Q, Li D, Liu C, Guo J, Liu S, Liu Y, Wang X, Zeng Y. The significance of MGMT protein detection in evaluation of osteosarcoma necrosis rate after cisplatin chemotherapy. Biomol Biomed [Internet]. 2011May20 [cited 2023Feb.9];11(2):80-3. Available from: https://www.bjbms.org/ojs/index.php/bjbms/article/view/2585
Section
Translational and Clinical Research