Outpatient antihypertensive drug utilization in Canton Sarajevo during five years period (2004-2008) and adherence to treatment guidelines assessment
Keywords:
pharmacoeconomics, antihypertensives, antihypertensives utilization, treatment guidelines, pharmaceutical expenditure
Abstract
Hypertension is chronic disease with high prevalence, which can successfully be treated with antihypertensive drugs. Previous researches have shown that existing hypertension treatment guidelines are not fully implemented in practice. We have analysed antihypertensive drug utilization in Canton Sarajevo during five-year period (2004-2008). Research findings are discussed in relation to expected drug utilization according to Canton Sarajevo treatment guidelines. Objective of this research is to examine prescription patterns of antihypertensive drugs in primary health care in Canton Sarajevo during five-year period. Based on study findings we did an estimation of adherence to local treatment guidelines, which are similar to those published globally. Drug utilization data were collected from the largest pharmacy (retail) chain, representing more than 80% of pharmacies in Canton Sarajevo. Following drug groups have been analyzed: diuretics, beta-blockers, calcium- channel-blockers, ACE-Inhibitors (plain and combinations), Angiotensin-II-antagonists and alpha-blockers. Drug utilization is expressed in number of defined daily dose (DDDs), defined daily dose per thousand inhabitants per day (DDD/TID), drug utilization 90% (DU90%) and value in euros. ACE-Inhibitors are most prescribed drug class; combination of ACE-Inhibitors and diuretics account 46% of total antihypertensive budget spending. ACEIs are followed by calcium-channel-blockers. Diuretics utilization is decreasing from 2006 and being replaced with beta-blockers. Diuretics, recommended as first line therapy, are ranked as third in total antihypertensive drug utilization. It is necessary to introduce follow-up and enforce adherence to developed treatment guideline. Drug utilization studies can be used as tool for assessment of treatment guidelines adherence in primary health care.
Downloads
Download data is not yet available.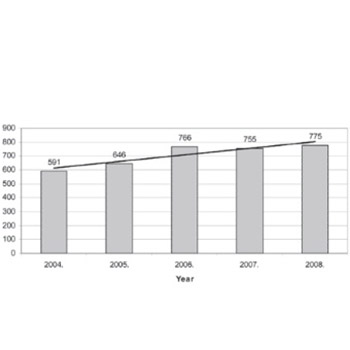 Downloads
Additional Files
How to Cite
1.
Čatić T, Begović B. Outpatient antihypertensive drug utilization in Canton Sarajevo during five years period (2004-2008) and adherence to treatment guidelines assessment. Biomol Biomed [Internet]. 2011May20 [cited 2023Jun.2];11(2):97-102. Available from: https://www.bjbms.org/ojs/index.php/bjbms/article/view/2589
Section
Short Communication