Preemptive analgesic effects of midazolam and diclofenac in rat model
Keywords:
midazolam, diclofenac, preemptive analgesia, hot plate test, formalin test
Abstract
The aim of the present study was to investigate the preemptive analgesic effects of intraperitoneally administrated midazolam and diclofenac, before acute and inflammatory induced pain in rat model.
One hundred twenty-eight (n=8 in each group) male Sprague Dawley rats were included in the study. Paw movements in response to thermal stimulation or paw flinching in response to formalin injection were compared after midazolam (0.1, 1, 5 and 10 mg/kg) and diclofenac (10 mg/kg), intraperitoneal administration. Saline was used as a control.
Preemptive analgesic effect was significant in both tests when diclofenac and midazolam was administrated before the pain stimuli (p<0.01 and p<0.001). Intraperitoneal injection of midazolam in doses 5 and 10 mg/kg, increase the response time in hot plate test and decrease the number of flinches in formalin test (p<0.01 vs. p<0.001). ED50 of midazolam (with diclofenac) in hot plate test was 2.02 mg/kg (CI95% =-3.47-5.03 mg); and, 0.9 mg/kg (CI95% =-0.87-4.09 mg) in phase I and 0.7 mg/kg (CI95% = 0.48-6.63 mg) in phase II, in formalin test.
Intraperitoneally administered midazolam and diclofenac had preemptive analgesic effects on acute thermal, and inflammatory induced pain in rats.
Downloads
Download data is not yet available.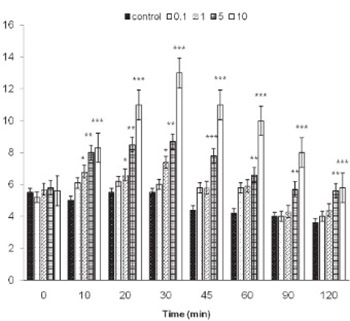 Downloads
Additional Files
How to Cite
1.
Hasani A, Soljakova M, Jakupi M, Ustalar-Ozgen S. Preemptive analgesic effects of midazolam and diclofenac in rat model. Biomol Biomed [Internet]. 2011May20 [cited 2023Jan.28];11(2):113-8. Available from: https://www.bjbms.org/ojs/index.php/bjbms/article/view/2593