Investigation of Ivs14+1G>A Polymorphism of Dpyd Gene in a Group of Bosnian Patients Treated with 5-Fluorouracil and Capecitabine
Keywords:
pharmacogenetics, Dihydropyrimidine dehydrogenase, DPYD2A mutation
Abstract
Adverse drug reactions still pose an important clinical problem. Dihydropyrimidine dehydrogenase (DPD) is an enzyme that regulates 5-FU quantities available for anabolic processes and hence affects its pharmacokinetics, toxicity and efficacy.
There are several studies describing a hereditary (pharmacogenetic) disorder in which individuals with absent or significantly reduced DPD activity may even develop a life-threatening toxicity following exposure to 5-FU. The most common mutation is known as the DPYD*2A or as the splice-site mutation (IVS14 + 1G A) leading to creation of a dysfunctional protein. An objective behind the study was to ascertain existence of the IVS14+ 1G A mutation among the population of Bosnia and Herzegovina. Our research has undeniably attested to existence of one heterozygote for the DPYD gene mutation, i.e. one heterozygote for IVS14 + 1 G > A, DPYD*2A mutation.
Downloads
Download data is not yet available.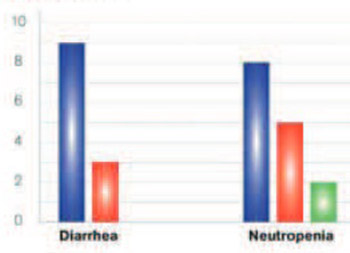 Downloads
How to Cite
1.
Cerić T, Obralić N, Kapur-Pojskić L, Macić D, Bešlija S, Pašić A, Cerić Šejla. Investigation of Ivs14+1G>A Polymorphism of Dpyd Gene in a Group of Bosnian Patients Treated with 5-Fluorouracil and Capecitabine. Biomol Biomed [Internet]. 2010May20 [cited 2023Apr.1];10(2):133-9. Available from: https://www.bjbms.org/ojs/index.php/bjbms/article/view/2712
Section
Molecular Biology