Pattern of Head and Neck Malignant Tumours in a Tuzla ENT Clinic – A Five Year Experience
Keywords:
head and neck tumours, epidemiology, sex, stage, distribution
Abstract
Head and neck neoplasia can affect certain fundamental functions, including eating, drinking, speaking and respiration. One overriding factor in deciding on treatment policy is the tendency for head and neck malignancy to be limited to the primary site and regional lymph nodes with surgery and chemotherapy and radiotherapy. The aim of the study was to analyze the occurrence of Head and Neck tumours operated at ENT clinic Tuzla, University Clinical Center Tuzla, Bosnia and Herzegovina. Medical records of patients with histopathologically confirmed head and neck malignancies over a 5 year period (2003-2007) were analyzed. Eight hundred and eight one (881) cases, made up of 519 (58,8%) males and 362 (41,1%) females were found. The most common sites for head and neck malignancies were found to be in the larynx (26,1%), oral cavity (21,7%), the thyroid gland (14,64 %) and the neck (8,51%). A total of 230 patients were diagnosed with laryngeal carcinoma (M:173; E57), showing the increasing number of female patients. The histopathological tumour types found in this work were mostly squamous cell carcinoma (72,09%), papillary carcinoma (12,2%), while many other minor histopathological variants accounted for 13%. The most patients were presented with stage I and stage III of disease (27% and 28,3%), and 19,9% with stage IV. About 40% of patients did not have data about smoking habit and alcohol drinking. The incidence of head and neck tumours seems to be relatively high, but without significant increase during investigated period. More investigation concerning risk factors, diagnostic procedures, and management strategies should be done in future.
Downloads
Download data is not yet available.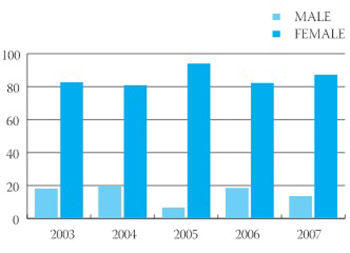 Downloads
How to Cite
1.
Altumbabić H, Salkić A, Ramaš A, Burgić M, Kasumović M, Brkić F. Pattern of Head and Neck Malignant Tumours in a Tuzla ENT Clinic – A Five Year Experience. Biomol Biomed [Internet]. 2008Nov.20 [cited 2023Sep.23];8(4):377-80. Available from: https://www.bjbms.org/ojs/index.php/bjbms/article/view/2901
Section
Short Communication