Comparison of Some Physical Parameters of Whole and Scored Lisinopril and Lisinopril/Hydrochlorthiazide Tablets
Keywords:
physical parameters, scored tablets
Abstract
Tablets are one of the most popular and preferred solid dosage forms because they can be accurately dosed, easily manufactured and packaged on a large scale, have good physical and chemical stability, and can contribute to good patient compliance given their ease of administration. The ability to match doses to patients depends on the availability of multiple dose sizes and adequate dose-response information. These are not always provided, so splitting of the tablets is sometimes necessary, Tablet splitting is an accepted practice in dispensing medication, It has been used when a dosage form of the required strength is not available commercially. The aim of our study was to compare some physical parameters of whole and scored lisinopril and lisinopril/hydrochlorthiazide tablets and to accept or exclude their influence on the obtaining of required dosage.
According to the results obtained, we may conclude that tablets from batch "I" "IL "III" and "IV" satisfied pharmacopeial requirements concerning crushing strength, friability, disintegration time and mass uniformity. The hardness testing showed acceptable reproducibility and indicate that the data variation was primarily from the irreversible changes in the structure of tablet samples. The act of compacting powders stores energy within the tablets, by shifting or compressing the intermolecular bonds within the particles. The tablets have a natural tendency to relax once pressure is removed, and this tendency works against the interparticle bonding formed during compression. Hardness testing procedure causes irreversible changes in this structure.
Downloads
Download data is not yet available.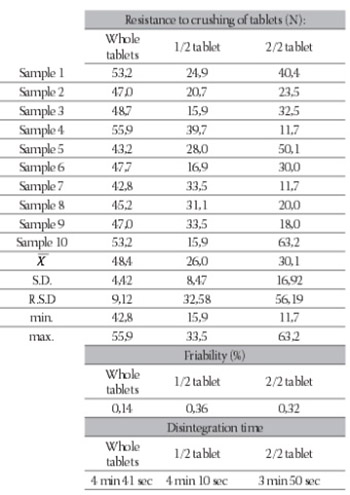 Downloads
How to Cite
1.
Vranić E, Uzunović A. Comparison of Some Physical Parameters of Whole and Scored Lisinopril and Lisinopril/Hydrochlorthiazide Tablets. Biomol Biomed [Internet]. 2008Nov.20 [cited 2023Sep.23];8(4):391-5. Available from: https://www.bjbms.org/ojs/index.php/bjbms/article/view/2906