Stability of Anthocyanins from Commercial Black Currant Juice under Simulated Gastrointestinal Digestion
Keywords:
anthocyanins, stability, black currant, gastrointestinal digestion
Abstract
Anthocyanins are effective antioxidants but they have also been proposed to have other biological activities independent of their antioxidant capacities that produce health benefits. Examples range from inhibition of cancer cell growth in vitro, induction of insulin production in isolated pancreatic cells, reduction of starch digestion through inhibition of a-glucosidase activity, suppression of inflammatory responses as well as protection against age-related declines in cognitive behavior and neuronal dysfunction in the central nervous system. However, to achieve any biological effect in a specific tissue or organ, anthocyanins must be bioavailable; i.e. effectively absorbed from the gastrointestinal tract (GIT) into the circulation and delivered to the appropriate location within the body. In this study, we assess the stability of anthocyanins from commercial Black currant (Ribes nigrum L.) juice using an in vitro digestion procedure that mimics the physiochemical and biochemical conditions encountered in the gastrointestinal tract (GIT). The main objective of this work was the evaluation of stability of anthocyanins during in vitro digestion in gastric and intestinal fluid regarding whether appropriate enzyme (pepsin or pancreatin) was added or not. Anthocyanins present in commercial black currant juice remain stable during in vitro digestion in gastric fluid regardless whether pepsin was added into the medium or not. Also, they remain stable during in vitro digestion in simulated intestinal fluid without pancreatin. The stability studies of anthocyanins in the intestinal fluid containing pancreatin indicated reduced stability, which also mainly contribute to slight reduction of total anthocyanins content (1,83%-) in commercial black currant juice.
Downloads
Download data is not yet available.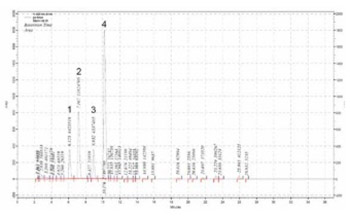 Downloads
How to Cite
1.
Uzunović A, Vranić E. Stability of Anthocyanins from Commercial Black Currant Juice under Simulated Gastrointestinal Digestion. Biomol Biomed [Internet]. 2008Aug.19 [cited 2023Jan.27];8(3):254-8. Available from: https://www.bjbms.org/ojs/index.php/bjbms/article/view/2928