Stability of Cefuroxime Axetil Oral Suspension at Different Temperature Storage Conditions
Keywords:
cefuroxime axetil, suspension, stability
Abstract
Stability testing of an active substance or finished product provides information of the variation of drug substance or final product with time influenced by a variety of environmental factors such as temperature, humidity and light. Knowledge gained from stability studies enables understanding of the effects of the environment on the drugs.
The aim of our study was to determine the stability of cefuroxime axetil oral suspension at different temperature storage conditions (stored at room /20°C/ and refrigerated /5°C/ conditions). Determination of cefuroxime (as cefuroxime axetil) was performed by dissolution testing.
Fractions of the released cefuroxime axetil were compared usingJ2 value. After interpolating data for dissolution profiles at room and refrigerated conditions the following f2values were obtained: 62,56; 56,32 and 36,18 on 3rd, 6th and 10th day, respectively. These values indicate similarities in drug release from analyzed cefuroxime axetil oral suspension on 3rd, 6th day, and differences on 10th day.
Based on our results, we may assume that cefuroxime axetil oral suspension preserves its stability for 10 days after reconstitution under room and refrigerated conditions. It is obvious, according to the f2 value obtained on the 10th day, that there is a difference between the released ceforoxime axetil from oral suspension at room (87,68%) and refrigerated (92,35%) conditions. Concentration changes can be caused by the mechanisms associated with drug release and hydrolytical decomposition of the sample and higher temperatures during longer period of storage.
Downloads
Download data is not yet available.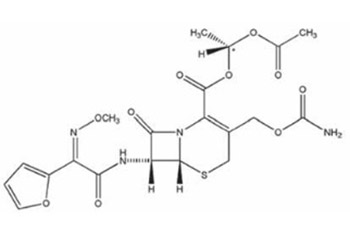 Downloads
How to Cite
1.
Uzunović A, Vranić E. Stability of Cefuroxime Axetil Oral Suspension at Different Temperature Storage Conditions. Biomol Biomed [Internet]. 2008Feb.20 [cited 2023Feb.9];8(1):93-6. Available from: https://www.bjbms.org/ojs/index.php/bjbms/article/view/3005