Fixed Combination Lisinopril Plus Hydrochlorothiazide in the Treatment of Essential Arterial Hypertension: An Opened, Multi-Centre, Prospective Clinical Trial
Keywords:
essential hypertension, lisinopril, hydrochlorthiazide
Abstract
The aim of this trial was to examine the efficacy and safety of antihypertensive fixed combination lisinopril plus hydrochlorothiazide (Lopril H, Bosnalijek dd) in the treatment of essential arterial hypertension.
In our trial we included 297 patients, aged 54,65±9,6 years, with treated or untreated hypertension and with high risk of cardiac events, in an opened trial of therapy based on lisinopril plus hydrochlorothiazide. Upon the examination by physicians, patients were divided into three groups in accordance with European Society of Cardiology guidelines for the management of arterial hypertension. Patients from five European countries were followed up for a period of 12 weeks. Duration of treatment was 12 weeks. We adjusted daily doses of lisinopril plus hydrochlorothiazide after every clinical examination and recorded adverse effects of drugs.
After 12 weeks of treatment, 288 patients (96%) were evaluated for efficacy, tolerability and safety. In almost 81,5% patients with mild, moderate and severe hypertension, we recorded a reduction in blood pressure to approximately normal values SBP and DBP (140/90 mmHg). Drug-related side-effects occurred in 11 patients (3,66%). The most commonly reported adverse effects associated with lisinopril plus hydrochlorothiazide were cough (5) and dry mouth (5).
This research has proved good efficacy of fixed combination lisinopril plus hydrochlorothiazide with more than 97% patients. Based on subjective estimation by patients: this drug improved quality of life in all cases.
Downloads
Download data is not yet available.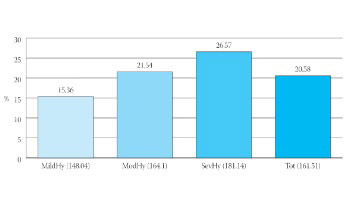 Downloads
How to Cite
1.
Gerc V, Begović B, Vehabović M, Georgievich Voronkov L, Vataman E, Musić L, Bukša M, Kušljugić Z, Grigorevna Ilyash M, Michaylovna Ena L, Iosifovna Tchelujko V, Ivanovich Dyaduk A, Eduardovich Bagrij A, Alekseevna Andrievskaja S, Lazarević A, Knežević B, Hima F. Fixed Combination Lisinopril Plus Hydrochlorothiazide in the Treatment of Essential Arterial Hypertension: An Opened, Multi-Centre, Prospective Clinical Trial. Biomol Biomed [Internet]. 2007Nov.20 [cited 2023Jan.28];7(4):377-82. Available from: https://www.bjbms.org/ojs/index.php/bjbms/article/view/3031
Section
Translational and Clinical Research