Histological and biochemical effects of Cinnamomum cassia nanoparticles in kidneys of diabetic Sprague-Dawley rats
Keywords:
Cinnamomum cassia, silver nanoparticles, diabetes, histomorphology
Abstract
This study investigated the antidiabetic activity of Cinnamomum cassia (C. cassia, Cc) silver nanoparticles (CcAgNPS) and effects of C. cassia on the kidneys of rats with induced type 2 diabetes. Twenty-four Sprague-Dawley rats weighing 250 ± 20 g were induced with diabetes by intraperitoneal injection of streptozotocin (STZ, 60 mg/kg). Animals were randomly assigned to one of four groups (n = 6) and treated for eight weeks with normal saline (control, group A), 5 mg/kg of CcAgNPs (group B), 10 mg/kg of CcAgNPs (group C), or 200 mg/kg of Cc (group D). Body weight and fasting blood glucose (FBG) was measured weekly and fortnightly, respectively. At the end of experiments, animals were euthanized, blood and kidney tissue samples were collected for biochemistry (oxidative stress markers and renal function parameters) and kidneys were harvested for histology (PAS and HE staining). Body weight was significantly higher in group B and C vs. control (p < 0.05), while no significant differences were observed in the kidney-to-body weight ratio between groups. FBG, glutathione, malondialdehyde, alanine aminotransferase, aspartate aminotransferase, serum urea and creatinine were significantly lower in group B, C and/or D vs. control (all p < 0.05). In group A, severe distortion of the glomerular network was observed, marked by the loss of capsular integrity, thickened basement membrane, tubular cells with pyknotic nuclei, vacuolization, and interstitial space with infiltrations. These adverse effects were mitigated by 5 mg/kg and 10 mg/kg of CcAgNPs. Our study confirms structural and functional damage to kidneys caused by diabetes. CcAgNPs have a regenerative potential in diabetes-induced kidney damage and may be used as an antidiabetic agent.
Downloads
Download data is not yet available.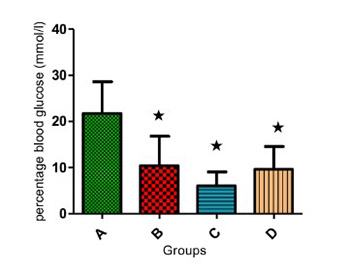 Downloads
Additional Files
How to Cite
1.
Kouame K, Peter AI, Akang EN, Moodley R, Naidu EC, Azu OO. Histological and biochemical effects of Cinnamomum cassia nanoparticles in kidneys of diabetic Sprague-Dawley rats. Biomol Biomed [Internet]. 2019May20 [cited 2023Jan.27];19(2):138-45. Available from: https://www.bjbms.org/ojs/index.php/bjbms/article/view/3481