Epidemiology and mechanism of drug resistance of Mycoplasma pneumoniae in Beijing, China: A multicenter study
Dong-Xing Guo

Beijing Key Laboratory for Research on Prevention and Treatment of Tropical Diseases, Beijing Tropical Medicine Research Institute, Beijing Friendship Hospital, Capital Medical University, Beijing, China

Wen-Juan Hu

Department of Pediatrics, Civil Aviation General Hospital, Beijing, China

Ran Wei

Beijing Key Laboratory for Research on Prevention and Treatment of Tropical Diseases, Beijing Tropical Medicine Research Institute, Beijing Friendship Hospital, Capital Medical University, Beijing, China

Hong Wang

Department of Pediatrics, Civil Aviation General Hospital, Beijing, China

Bao-Ping Xu

Department of Respiratory Diseases, Beijing Children's Hospital, Capital Medical University, Beijing, China

Wei Zhou

Department of Pediatrics, Peking University Third Hospital, Beijing, China

Shao-Jie Ma

Department of Pediatrics, Civil Aviation General Hospital, Beijing, China

Hui Huang

Department of Pediatrics, Civil Aviation General Hospital, Beijing, China

Xuan-Guang Qin

Department of Pediatrics, Capital Medical University, Beijing Chaoyang Hospital, Beijing, China

Yue Jiang

Department of Pediatrics, Capital Medical University, Beijing Chaoyang Hospital, Beijing, China

Xiao-Pei Dong

Department of Pediatrics, Capital Medical University, Beijing Chaoyang Hospital, Beijing, China

Xiao-Yan Fu

Department of Pediatrics, Capital Medical University, Beijing Chaoyang Hospital, Beijing, China

Da-Wei Shi

Department of Pediatrics, Beijing Friendship Hospital, Capital Medical University, Beijing, China

Liang-Yu Wang

Department of Pediatrics, Beijing Friendship Hospital, Capital Medical University, Beijing, China

A-Dong Shen

Beijing Key Laboratory of Pediatric Respiratory Infection Diseases, Key Laboratory of Major Diseases in Children, Ministry of Education, National Clinical Research Center for Respiratory Diseases, National Key Discipline of Pediatrics (Capital Medical University), Beijing Pediatric Research Institute, Beijing Children's Hospital, Capital Medical University, National Center for Children's Health, Beijing, China

De-Li Xin

Beijing Key Laboratory for Research on Prevention and Treatment of Tropical Diseases, Beijing Tropical Medicine Research Institute, Beijing Friendship Hospital, Capital Medical University, Beijing, China
Keywords:
Mycoplasma pneumoniae, epidemiology, drug resistance, infection
Abstract
Mycoplasma pneumoniae (M. pneumoniae) is one of the most common causes of community-acquired respiratory tract infections (RTIs). We aimed to investigate the prevalence of M. pneumoniae infection, antibiotic resistance and genetic diversity of M. pneumoniae isolates across multiple centers in Beijing, China. P1 protein was detected by Nested PCR to analyze the occurrence of M. pneumoniae in pediatric patients with RTI. M. pneumoniae isolates were cultured and analyzed by Nested-PCR to determine their genotypes. Broth microdilution method was used to determine the minimum inhibitory concentration (MIC) of antibiotics. Out of 822 children with RTI admitted to 11 hospitals in Beijing, 341 (41.48%) were positive for M. pneumoniae by Nested PCR and 236 (69.21%) samples had mutations in 23S rRNA domain V. The highest proportion of M. pneumoniae positive samples was observed in school-age children (118/190; 62.11%) and in pediatric patients with pneumonia (220/389; 56.56%). Out of 341 M. pneumoniae positive samples, 99 (12.04%) isolates were successfully cultured and the MIC values were determined for 65 M. pneumoniae strains. Out of these, 57 (87.69%) strains were resistant to macrolides, and all 65 strains were sensitive to tetracyclines or quinolones. M. pneumoniae P1 type I and P1 type II strains were found in 57/65 (87.69%) and 8/65 (12.31%) of cultured isolates, respectively. Overall, we demonstrated a high prevalence of M. pneumoniae infection and high macrolide resistance of M. pneumoniae strains in Beijing. School-age children were more susceptible to M. pneumoniae, particularly the children with pneumonia. Thus, establishment of a systematic surveillance program to fully understand the epidemiology of M. pneumoniae is critical for the standardized use of antibiotics in China.
Downloads
Download data is not yet available.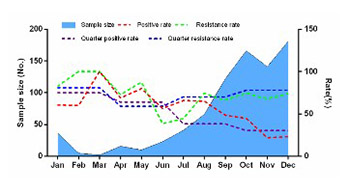 How to Cite
1.
Guo D-X, Hu W-J, Wei R, Wang H, Xu B-P, Zhou W, Ma S-J, Huang H, Qin X-G, Jiang Y, Dong X-P, Fu X-Y, Shi D-W, Wang L-Y, Shen A-D, Xin D-L. Epidemiology and mechanism of drug resistance of Mycoplasma pneumoniae in Beijing, China: A multicenter study. Bosn J of Basic Med Sci [Internet]. 2019Aug.20 [cited 2019Nov.18];19(3):288-96. Available from: https://www.bjbms.org/ojs/index.php/bjbms/article/view/4053
Section
Translational and Clinical Research
© Association of Basic Medical Sciences of FBIH.