LncRNA ADAMTS9-AS1 knockdown suppresses cell proliferation and migration in glioma via down-regulating Wnt/β-catenin signaling pathway
Chunhui Zhou

Department of Neurosurgery, Medical School of Chinese PLA General Hospital, Beijing, China

Hulin Zhao

Department of Neurosurgery, Medical School of Chinese PLA General Hospital, Beijing, China

Shuiwei Wang

Department of Neurosurgery, Medical School of Chinese PLA General Hospital, Beijing, China

Chao Dong

Department of Neurosurgery, Medical School of Chinese PLA General Hospital, Beijing, China

Fan Yang

Department of Neurosurgery, Medical School of Chinese PLA General Hospital, Beijing, China

Jianning Zhang

Department of Neurosurgery, Medical School of Chinese PLA General Hospital, Beijing, China
Keywords:
lncRNA, ADAMTS9-AS1, glioma, prognosis, Wnt/β-catenin
Abstract
The long non‐coding RNA antisense 1 ADAMTS9-AS1 has been reported to serve as an oncogene or tumor suppressor in several tumors, including colorectal cancer and hepatocellular carcinoma. Nevertheless, the clinical significance and biological behaviors of ADAMTS9-AS1 in glioma still remain unclear. Therefore, the goal of this study was to evaluate the functional roles and potential mechanisms of ADAMTS9-AS1 in glioma cells. Using quantitative real-time PCR analysis, we found that ADAMTS9-AS1 was upregulated in glioma tissues and cells in comparison to corresponding controls. ADAMTS9-AS1 expression level was correlated to tumor size (p=0.005) and WHO grade (p=0.002). Kaplan-Meier analysis and Cox multivariate analysis showed that ADAMTS9-AS1 could serve as an independent prognostic factor affecting the overall survival of glioma patients. Functionally, depletion of ADAMTS9-AS1 significantly suppressed the proliferation, migration and invasion in glioma cell lines (U251 and U87), as shown via CCK-8 assay, Edu corporation assay, wound healing assay and transwell assay. Furthermore, we demonstrated that knockdown of ADAMTS9-AS1 suppressed Wnt1, β-catenin, c-myc and PCNA, while upregulating E-cadherin expression. In conclusion, our data revealed that ADAMTS9-AS1 confers oncogenic function in the progression of glioma, thus targeting ADAMTS9-AS1 might be a promising therapeutic strategy for this disease.
Downloads
Download data is not yet available.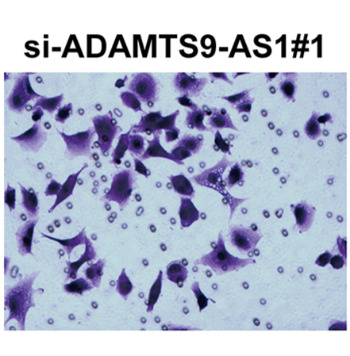 How to Cite
1.
Zhou C, Zhao H, Wang S, Dong C, Yang F, Zhang J. LncRNA ADAMTS9-AS1 knockdown suppresses cell proliferation and migration in glioma via down-regulating Wnt/β-catenin signaling pathway. Bosn J of Basic Med Sci [Internet]. 2021Dec.11 [cited 2022Jan.18];. Available from: https://www.bjbms.org/ojs/index.php/bjbms/article/view/6199
Section
Molecular Biology
Copyright (c) 2021 Chunhui Zhou, Hulin Zhao, Shuiwei Wang, Chao Dong, Fan Yang, Jianning Zhang
This work is licensed under a Creative Commons Attribution 4.0 International License.