Risk and prognosis of secondary bladder cancer after postoperative radiotherapy for gynecological cancer
Li Wen

Department of Prenatal diagnosis and screening center, Hangzhou Women's Hospital (Hangzhou Maternity and Child Health Care Hospital), Hangzhou, Zhejiang, China

Guansheng Zhong

Department of Breast Surgery, The First Affiliated Hospital, College of Medicine, Zhejiang University, Hangzhou, Zhejiang, China

Yingjiao Zhang

Department of Gastroenterology, The 903 Hospital of the Joint Logistics Support Force of the Chinese People's Liberation Army, Hangzhou, Zhejiang, China

Miaochun Zhong

Department of General Surgery, Zhejiang Provincial People's Hospital, Affiliated People's hospital, Hangzhou Medical College, Hangzhou, Zhejiang, China
Keywords:
Gynecological cancer, secondary bladder cancer, radiation therapy, prognosis, SEER
Abstract
The aim of this study was to investigate the impacts of radiation therapy (RT) on the occurrence risk of secondary bladder cancer (SBC) and on the patients' survival outcome after being diagnosed with gynecological cancer (EC). The data was obtained from the SEER database between 1973 and 2015. Chi-squared test was used to compare the clinicopathological characteristics among the different groups. Fine and Gray's competing risk model was used to assess the cumulative incidence and occurrence risk of SBC in GC survivors. Kaplan-Meier method was utilized for survival analysis. A total of 123,476 GC patients were included, among which 31,847 (25.8%) patients received RT while 91629 (74.2%) patients did not. The cumulative incidence of SBC was 1.59% or 0.73% among patients who had received prior GC specific RT or not, respectively. All EBRT (standardized incidence ratio (SIR) =2.49, 95% CI [2.17-2.86]), brachytherapy (SIR =1.96, 95% CI [1.60-2.38]), and combinational RT modality groups (SIR =2.73, 95% CI [2.24-3.28]) had dramatically higher SBC incidence as compared to the US general population. Receiving EBRT (HR = 2.83, 95% CI [2.34–3.43]), brachytherapy (HR = 2.17, 95% CI [1.67–2.82]), and combinational RT modality (HR = 2.97, 95% CI [2.34–3.77]) were independent risk factors for SBC development. Survival detriment was observed in SBC patients who received RT after GC diagnosis, as compared to those who did not receive RT. In conclusion, patients who underwent RT after GC had an increased risk of developing bladder as a secondary primary cancer. A long-term surveillance for SBC occurrence is necessary for GC patients who have received prior RT.
Downloads
Download data is not yet available.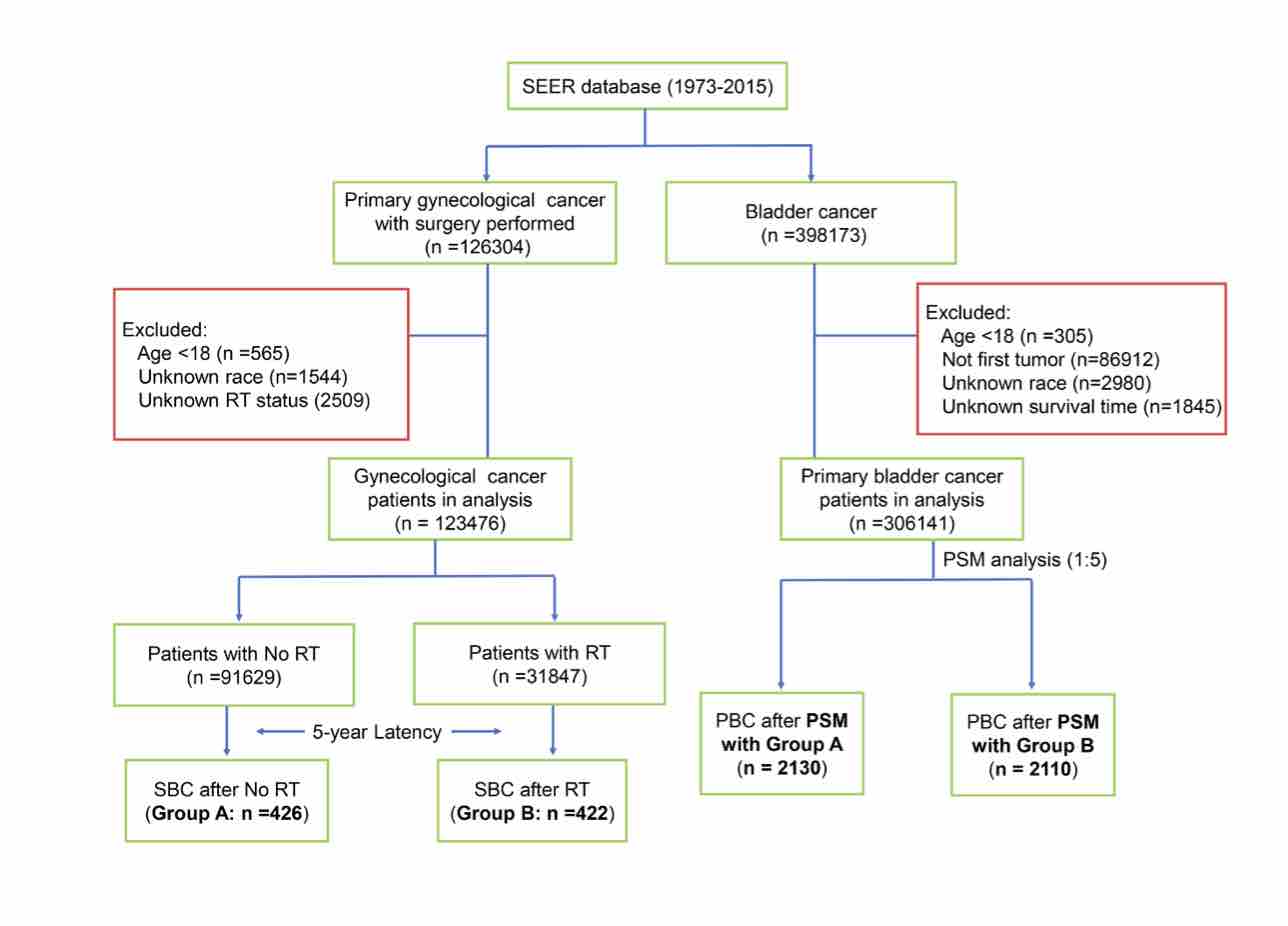 How to Cite
1.
Wen L, Zhong G, Zhang Y, Zhong M. Risk and prognosis of secondary bladder cancer after postoperative radiotherapy for gynecological cancer. Bosn J of Basic Med Sci [Internet]. 2021Oct.29 [cited 2022Jan.22];. Available from: https://www.bjbms.org/ojs/index.php/bjbms/article/view/6338
Section
Translational and Clinical Research
Copyright (c) 2021 Li Wen, Guansheng Zhong, Yingjiao Zhang, Miaochun Zhong
This work is licensed under a Creative Commons Attribution 4.0 International License.