Three-dimensional telomere profiles in papillary thyroid cancer variants: a pilot study
Aline Rangel-Pozzo

Cell Biology, Research Institute of Oncology and Hematology, CancerCare Manitoba, University of Manitoba, Winnipeg, Canada

Tinuccia Dettori

Department of Biomedical Sciences, University of Cagliari, Monserrato, Italy

Daniela Virginia Frau

Department of Biomedical Sciences, University of Cagliari, Monserrato, Italy

Federica Etzi

Department of Biomedical Sciences-Histology, University of Sassari, Viale San Pietro 43/B, Sassari, Italy

https://orcid.org/0000-0003-4837-4477

John Gartner

Department of Pathology, Max Rady College of Medicine, Rady Faculty of Health Sciences, University of Manitoba, Winnipeg, Canada

Garbor Fisher

Department of Pathology, Max Rady College of Medicine, Rady Faculty of Health Sciences, University of Manitoba, Winnipeg, Canada

https://orcid.org/0000-0002-9382-5815

Roberta Vanni

Department of Biomedical Sciences, University of Cagliari, Monserrato, Italy

Sabine Mai

Cell Biology, Research Institute of Oncology and Hematology, CancerCare Manitoba, University of Manitoba, Winnipeg, Canada

Paola Caria

Department of Biomedical Sciences, University of Cagliari, Monserrato, Italy

https://orcid.org/0000-0003-3790-7688
Keywords:
Papillary thyroid cancer, noninvasive follicular thyroid neoplasm with papillary-like nuclear features, follicular adenoma, 3D telomere profiles, NIFTP, FTA, PTC
Abstract
Besides the two main histologic types of papillary thyroid carcinoma (PTC), the classical PTC (CL-PTC) and the follicular variant PTC (FV-PTC), several other variants are described. The encapsulated FV-PTC variant was recently reclassified as noninvasive follicular thyroid neoplasm with papillary-like nuclear features (NIFTP) due to its similarities to benign lesions. Specific molecular signatures, however, are still unavailable. It is well known that improper DNA repair of dysfunctional telomeres may cause telomere-related genome instability. The mechanisms involved in the damaged telomere repair processing may lead to detrimental outcomes, altering the three-dimensional (3D) nuclear telomere and genome organization in cancer cells. This pilot study aimed to evaluate whether a specific 3D nuclear telomere architecture might characterize NIFTP, potentially distinguishing it from other PTC histologic variants. Our findings demonstrate that 3D telomere profiles of CL-PTC and FV-PTC were different from NIFTP and that NIFTP more closely resembles follicular thyroid adenoma (FTA). NIFTP has longer telomeres than CL-PTC and FV-PTC samples, and the telomere length of NIFTP overlaps with that of the FTA histotype. In contrast, there was no association between BRAF expression and telomere length in all tested samples. These preliminary findings reinforce the view that NIFTP is closer to non-malignant thyroid nodules and confirm that PTC features short telomeres.
Downloads
Download data is not yet available.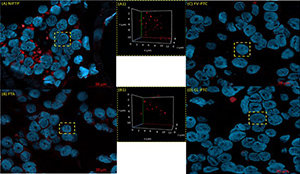 How to Cite
1.
Rangel-Pozzo A, Dettori T, Virginia Frau D, Etzi F, Gartner J, Fisher G, Vanni R, Mai S, Caria P. Three-dimensional telomere profiles in papillary thyroid cancer variants: a pilot study . Bosn J of Basic Med Sci [Internet]. 2021Dec.8 [cited 2022Jan.18];. Available from: https://www.bjbms.org/ojs/index.php/bjbms/article/view/6639
Section
Short Communication
Copyright (c) 2021 Aline Rangel-Pozzo, Tinuccia Dettori, Daniela Virginia Frau, Federica Etzi, John Gartner, Garbor Fisher, Roberta Vanni, Sabine Mai, Paola Caria
This work is licensed under a Creative Commons Attribution 4.0 International License.