The role of Six1 signaling in paclitaxel-dependent apoptosis in MCF-7 cell line
Keywords:
Six1, P53, apoptosis, MCF-7, paclitaxel-resistant cells
Abstract
The resistance of cancer cells to chemotherapeutic agents represents the main problem in cancer treatment. Despite intensive research, mechanisms of resistance have not yet been fully elucidated. Six1 signaling has an important role in the expansion of progenitor cell populations during early embryogenesis. Six1 gene overexpression has been strongly associated with aggressiveness, invasiveness, and poor prognosis of different cancers. In this study, we investigated the role of Six1 signaling in resistance of MCF-7 breast cancer cells to taxanes. We first established in vitro paclitaxel-resistant MCF-7 breast cancer cells. Morphological modifications in paclitaxel-resistant cells were examined via light microscopic images and fluorescence-activated cell sorting analysis. Applying quantitative real-time polymerase chain reaction, we measured Six1, B-cell lymphoma/leukemia(BCL-2), BAX, and P53 mRNA expression levels in both non-resistant and resistant cells. Resistant cells were developed from the parent MCF-7 cells by applying increasing concentrations of paclitaxel up to 64 nM. The inhibitory concentration 50% value in resistant cells increased from 3.5 ± 0.03 to 511 ± 10.22 nM (p = 0.015). In paclitaxel-resistant cells, there was a significant increase in Six1 and BCL-2 mRNA levels (p = 0.0007) with a marked decrease in pro-apoptotic Bax mRNA expression level (p = 0.03); however, there was no significant change in P53 expression (p = 0.025). Our results suggest that identifying cancer patients with high Six1 expression and then inhibition of Six1 signaling can improve the efficiency of chemotherapeutic agents in the induction of apoptosis.
Downloads
Download data is not yet available.
References
Alphandéry E. Perspectives of breast cancer thermotherapies. J Cancer 2014;5(6):472-9. http://dx.doi.org/10.7150/jca.8693.
Tinoco G, Warsch S, Glück S, Avancha K, Montero AJ. Treating breast cancer in the 21st century: Emerging biological therapies. J Cancer 2013;4(2):117-32. http://dx.doi.org/10.7150/jca.4925.
Tabasinezhad M, Samadi N, Ghanbari P, Mohseni M, Saei AA, Sharifi S, et al.Sphingosin 1-phosphate contributes in tumor progression. J Cancer Res Ther 2013;9(4):556-63. http://dx.doi.org/10.4103/0973-1482.126446.
Jordan MA, Wilson L. Microtubules as a target for anticancer drugs. Nat Rev Cancer 2004;4(4):253-65. http://dx.doi.org/10.1038/nrc1317.
Coley HM. Development of drug-resistant models. Methods Mol Med 2004;88:267-73.
Wahl AF, Donaldson KL, Fairchild C, Lee FY, Foster SA, Demers GW, et al. Loss of normal p53 function confers sensitization to Taxol by increasing G2/M arrest and apoptosis. Nat Med 1996;2(1):72-9. http://dx.doi.org/10.1038/nm0196-72.
Li Y, Benezra R. Identification of a human mitotic checkpoint gene: HsMAD2. Science 1996;274(5285):246-8. http://dx.doi.org/10.1126/science.274.5285.246.
Tan J, Zhang C, Qian J. Expression and significance of Six1 and Ezrin in cervical cancer tissue. TumourBiol 2011;32(6):1241-7. http://dx.doi.org/10.1007/s13277-011-0228-8.
Reed JC. Bcl-2-family proteins and hematologic malignancies: History and future prospects. Blood 2008;111(7):3322-30. http://dx.doi.org/10.1182/blood-2007-09-078162.
Sasi N, Hwang M, Jaboin J, Csiki I, Lu B. Regulated cell death pathways: New twists in modulation of BCL2 family function. Mol Cancer Ther 2009;8(6):1421-9. http://dx.doi.org/10.1158/1535-7163.MCT-08-0895.
Kurvinen K, Syrjänen K, Syrjänen S. p53 and bcl-2 proteins as prognostic markers in human papillomavirus-associated cervical lesions. J ClinOncol 1996;14(7):2120-30.
Sharifi S, Barar J, Hejazi MS, Samadi N. Roles of the Bcl-2/Bax ratio, caspase-8 and 9 in resistance of breast cancer cells to paclitaxel. Asian Pac J Cancer Prev 2014;15(20):8617-22. http://dx.doi.org/10.7314/APJCP.2014.15.20.8617.
Huang SM, Tsai CF, Chen DR, Wang MY, Yeh WL. p53 is a key regulator for osthole-triggered cancer pathogenesis. Biomed Res Int 2014;2014:175247. http://dx.doi.org/10.1155/2014/175247.
Jackson JG, Pant V, Li Q, Chang LL, Quintás-Cardama A, Garza D, et al. p53-mediated senescence impairs the apoptotic response to chemotherapy and clinical outcome in breast cancer. Cancer Cell 2012;21(6):793-806. http://dx.doi.org/10.1016/j.ccr.2012.04.027.
Jin A, Xu Y, Liu S, Jin T, Li Z, Jin H, et al.Sineoculishomeobox homolog 1 protein overexpression as an independent biomarker for pancreatic ductal adenocarcinoma. ExpMolPathol 2014;96(1):54-60. http://dx.doi.org/10.1016/j.yexmp.2013.11.003.
Ozaki H, Nakamura K, Funahashi J, Ikeda K, Yamada G, Tokano H, et al. Six1 controls patterning of the mouse otic vesicle. Development 2004;131(3):551-62. http://dx.doi.org/10.1242/dev.00943.
Hendry CE, Vanslambrouck JM, Ineson J, Suhaimi N, Takasato M, Rae F, et al. Direct transcriptional reprogramming of adult cells to embryonic nephron progenitors. J Am SocNephrol 2013;24(9):1424-34. http://dx.doi.org/10.1681/ASN.2012121143.
Li X, Oghi KA, Zhang J, Krones A, Bush KT, Glass CK, et al.Eya protein phosphatase activity regulates Six1-Dach-Eya transcriptional effects in mammalian organogenesis. Nature 2003;426(6964):247-54. http://dx.doi.org/10.1038/nature02083.
Ikeda K, Kageyama R, Suzuki Y, Kawakami K. Six1 is indispensable for production of functional progenitor cells during olfactory epithelial development. Int J DevBiol 2010;54(10):1453-64. http://dx.doi.org/10.1387/ijdb.093041ki.
McCoy EL, Iwanaga R, Jedlicka P, Abbey NS, Chodosh LA, Heichman KA, et al. Six1 expands the mouse mammary epithelial stem/progenitor cell pool and induces mammary tumors that undergo epithelial-mesenchymal transition. J Clin Invest 2009;119(9):2663-77. http://dx.doi.org/10.1172/JCI37691.
Zheng W, Huang L, Wei ZB, Silvius D, Tang B, Xu PX. The role of Six1 in mammalian auditory system development. Development 2003;130(17):3989-4000. http://dx.doi.org/10.1242/dev.00628.
Ng KT, Man K, Sun CK, Lee TK, Poon RT, Lo CM, et al.Clinicopathological significance of homeoprotein Six1 in hepatocellular carcinoma. Br J Cancer 2006;95(8):1050-5. http://dx.doi.org/10.1038/sj.bjc.6603399.
Behbakht K, Qamar L, Aldridge CS, ColettaRD, Davidson SA, Thorburn A, et al. Six1 overexpression in ovarian carcinoma causes resistance to TRAIL-mediated apoptosis and is associated with poor survival. Cancer Res 2007;67(7):3036-42. http://dx.doi.org/10.1158/0008-5472.CAN-06-3755.
Coletta RD, Christensen KL, Micalizzi DS, Jedlicka P, Varella-Garcia M, Ford HL. Six1 overexpression in mammary cells induces genomic instability and is sufficient for malignant transformation. Cancer Res 2008;68(7):2204-13. http://dx.doi.org/10.1158/0008-5472.CAN-07-3141.
Sabzichi M, Hamishehkar H, Ramezani F, Sharifi S, Tabasinezhad M, Pirouzpanah M, et al.Luteolin-loaded phytosomes sensitize human breast carcinoma MDA-MB 231 cells to doxorubicin by suppressing Nrf2 mediated signalling. Asian Pac J Cancer Prev 2014;15(13):5311-6. http://dx.doi.org/10.7314/APJCP.2014.15.13.5311.
Ghanbari P, Mohseni M, Tabasinezhad M, Yousefi B, Saei AA, Sharifi S, et al. Inhibition of survivin restores the sensitivity of breast cancer cells to docetaxel and vinblastine. ApplBiochemBiotechnol 2014;174(2):667-81. http://dx.doi.org/10.1007/s12010-014-1125-6.
Pirouzpanah MB, Sabzichi M, Pirouzpanah S, Chavoshi H, Samadi N. Silibilin-induces apoptosis in breast cancer cells by modulating p53, p21, Bak and Bcl-XL pathways. Asian Pac J Cancer Prev 2015;16(5):2087-92. http://dx.doi.org/10.7314/APJCP.2015.16.5.2087.
Samadi N, Bekele RT, Goping IS, Schang LM, Brindley DN. Lysophosphatidate induces chemo-resistance by releasing breast cancer cells from taxol-induced mitotic arrest. PLoS One 2011;6(5):e20608. http://dx.doi.org/10.1371/journal.pone.0020608.
Samadi N, Ghanbari P, Mohseni M, Tabasinezhad M, Sharifi S, Nazemieh H, et al. Combination therapy increases the efficacy of docetaxel, vinblastine and tamoxifen in cancer cells. J Cancer Res Ther2014;10(3):715-21.
Wang H, Vo T, Hajar A, Li S, Chen X, Parissenti AM, et al.Multiple mechanisms underlying acquired resistance to taxanes in selected docetaxel-resistant MCF-7 breast cancer cells. BMC Cancer 2014;14(1):37. http://dx.doi.org/10.1186/1471-2407-14-37.
Iwanaga R, Wang CA, Micalizzi DS, Harrell JC, Jedlicka P, Sartorius CA, et al. Expression of Six1 in luminal breast cancers predicts poor prognosis and promotes increases in tumor initiating cells by activation of extracellular signal-regulated kinase and transforming growth factor-beta signaling pathways. Breast Cancer Res 2012;14(4):R100. http://dx.doi.org/10.1186/bcr3219.
Li Z, Tian T, Lv F, Chang Y, Wang X, Zhang L, et al. Six1 promotes proliferation of pancreatic cancer cells via upregulation of cyclin D1 expression. PLoS One 2013;8(3):e59203. http://dx.doi.org/10.1371/journal.pone.0059203.
Turajlic S, McGranahan N, Swanton C. Inferring mutational timing and reconstructing tumour evolutionary histories. BiochimBiophysActa 2015;1855(2):264-75. http://dx.doi.org/10.1016/j.bbcan.2015.03.005.
Khan SH, Wahl GM. p53 and pRb prevent rereplication in response to microtubule inhibitors by mediating a reversible G1 arrest. Cancer Res 1998;58(3):396-401.
Delia D, Mizutani S, Lamorte G, Goi K, Iwata S,Pierotti MA. p53 activity and chemotherapy. Nat Med 1996;2(7):724-5. http://dx.doi.org/10.1038/nm0796-724.
Bilalovic N, Vranic S, Hasanagic S, Basic H, Tatarevic A, Beslija S, et al. The Bcl-2 protein: A prognostic indicator strongly related to ER and PR in breast cancer. Bosn J Basic Med Sci 2004;4(4):5-12.
Childs AC, Phaneuf SL, Dirks AJ, Phillips T, Leeuwenburgh C. Doxorubicin treatment in vivo causes cytochrome C release and cardiomyocyte apoptosis, as well as increased mitochondrial efficiency, superoxide dismutase activity, and Bcl-2:Bax ratio. Cancer Res 2002;62(16):4592-8.
Turajlic S, Ali Z, Yousaf N, Larkin J. Phase I/II RAF kinase inhibitors in cancer therapy. Expert OpinInvestig Drugs 2013;22(6):739-49. http://dx.doi.org/10.1517/13543784.2013.797964.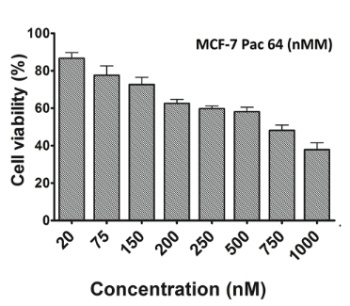 Downloads
Additional Files
How to Cite
1.
Armat M, Oghabi Bakhshaiesh T, Sabzichi M, Shanehbandi D, Sharifi S, Molavi O, Mohammadian J, Saeid Hejazi M, Samadi N. The role of Six1 signaling in paclitaxel-dependent apoptosis in MCF-7 cell line. Bosn J of Basic Med Sci [Internet]. 2016Jan.1 [cited 2022Nov.29];16(1):28-34. Available from: https://www.bjbms.org/ojs/index.php/bjbms/article/view/674