Effect of high saturated free fatty acids feeding on progression of renal failure in rat model of experimental nephrotoxicity
Keywords:
nephrotoxicity, blood pressure, hypertension, creatinine clearance, high fat diet
Abstract
The current study evaluates the impact of high saturated fat feeding in rat model of experimental nephrotoxicity induced by gentamicin. Sprague-Dawley rats weighing 200 g were randomized into four groups; the first one received the standard rodents chow for 8 weeks and was treated as control, the second group (HFD)received an experimental high fat diet rich in palm kernel oil (40% of Calories as fat) for the same period. The third group (HFDG) was given 80 mg/kg (body weight)/day gentamicin sulphate intraperitoneally during the last 24 days of the feeding period while the fourth group was given gentamicin as above along with the standard rodents chow. Renal function was assessed through measuring serum creatinine, creatinine clearance and absolute and fractional excretion of both sodium and potassium. At the end, rats underwent a surgical procedure for blood pressure measurement. Renal function study showed a stronger nephrotoxicity for HFDG group. Hypertension was observed in HFD group while the pressure declined after gentamicin co-administration. Overall, changing the feeding behavior toward using more SAFFAs for rats injected with gentamicin promotes the progression of renal failure.
Downloads
Download data is not yet available.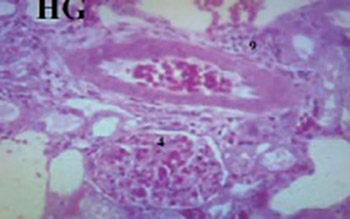 Downloads
Additional Files
How to Cite
1.
Ibraheem ZO, Sattar MA, Abdullah NA, Rathore HA, J. Johns E. Effect of high saturated free fatty acids feeding on progression of renal failure in rat model of experimental nephrotoxicity. Biomol Biomed [Internet]. 2012Feb.20 [cited 2023Sep.23];12(1):26-31. Available from: https://www.bjbms.org/ojs/index.php/bjbms/article/view/2527