Dissolution Studies of Physical Mixtures of Indomethacin with Alpha- and Gamma-Cyclodextrins
Keywords:
dissolution, indomethacin, alpha-, gamma-cyclodextrin, physical mixture
Abstract
Oral administration of indomethacin has been limited by its poor water solubility. Cyclodextrins have been recognized as potential candidates to overcome the poor solubility of indomethacin through the formation of inclusion complexes.
The aim of our study was to compare the dissolution profiles of pure indomethacin and its mixtures with α- and γ-cyclodextrins The inclusion complexes of indomethacin with α- and γ-cyclodextrins were prepared by direct mixing in dissolution vessel. Fixed volumes of the dissolution medium were withdrawn at 0,5; 1 and 4 hours. Dissolution tests were performed on the USP Apparatus 2, rotating speed 100 rpm at 37±0,5°C, 500 ml, distilled water and 0,1 M HCl solution). Quantification of dissolved indomethacin was performed by UV/VIS spectrophotometric method at the absorption maximum around 320 nm.
The results were expressed as relative dissolution rate (ratio between indomethacin dissolved from its physical mixtures with α- and γ-cyclodextrins and that dissolved the pure drug).
Relative dissolution rates of indomethacin in combination with α- and γ-cyclodextrins at the end of testing were in the range of 91,66 to 337,14 % (for α- cyclodextrin) and in the range of 128,57 to 301,92 % (for γ-cyclodextrin).
The complexation of indomethacin with α- and γ-cyclodextrins resulted in the enhancement of dissolution rate.
Downloads
Download data is not yet available.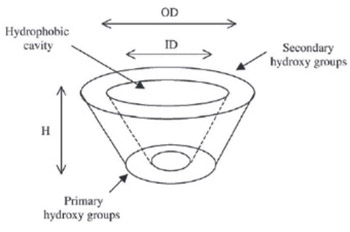 Downloads
How to Cite
1.
Vranić E, Uzunović A. Dissolution Studies of Physical Mixtures of Indomethacin with Alpha- and Gamma-Cyclodextrins. Biomol Biomed [Internet]. 2010Aug.20 [cited 2023Jan.31];10(3):197-203. Available from: https://www.bjbms.org/ojs/index.php/bjbms/article/view/2685