The Influence of Renal Alograft Function on Cardiovscular Status and Left Ventricular Remodelling
Keywords:
HNPCC, kidney transplantation, left ventricular hypertrophy, echocardiography
Abstract
The synergy and shared co-morbidity, certainly interplay between kidney and cardiovascular disease, where advanced renal failure influences on progression of cardiac disease in bi-direction relationship. Cardiovascular diseases are cause of death in almost 50% of uremic patients. Correction of uremia after successful renal transplantation leads to improved cardiovascular status in the maj ority of kidney transplanted patients. The aim of this study was an evaluation of the influence of renal allograft function on left ventricular remodelling in the first year after transplantation comparing echocardiographic findings before and twelve months after transplantation had been done. In retrospective-prospective study we followed up 30 patients with renal allograft in the first post transplant year. During the study values of serum creatinine and creatinine clearance were monthly monitored. Echocardiographic examination was done before transplantation and one year after the kidney transplantation. Results of our study showed that before transplantation 67% of patients had echocardiographic signs of left ventricular (LV) hypertrophy, while 33% of patients had normal echocardiographic findings. After first post transplant year, 63% of patients showed normal view of LV and 37% remained with LV hypertrophy. Diastolic dysfunction of LV till the end of study had been reduced from 70% to 40% of patients. The positive echocardio-graphic remodelling of LV significantly correlated with the rise in creatinine clearance and with the reduction of the serum creatinine. These results confirm positive correlation between renal allograft functional status and remodelling of left ventricular hypertrophy after successful renal transplantation.
Downloads
Download data is not yet available.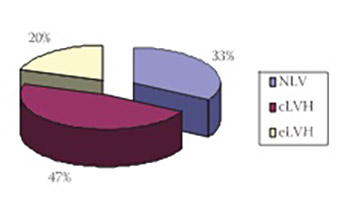 Downloads
How to Cite
1.
Džemidžić J, Rašić S, Saračević A. The Influence of Renal Alograft Function on Cardiovscular Status and Left Ventricular Remodelling. Bosn J of Basic Med Sci [Internet]. 2009May20 [cited 2022Dec.3];9(2):102-6. Available from: https://www.bjbms.org/ojs/index.php/bjbms/article/view/2827
Section
Translational and Clinical Research