Comparative Accuracy of Mammography and Ultrasound in Women with Breast Symptoms According to Age and Breast Density
Keywords:
breast lesions, diagnostic methods, mammography, ultrasound
Abstract
Breast cancer is the most common cancer and the second most common cause of death from cancer in women.The aim of this studywas to determine which is more accurate imaging test mammography or ultrasound for diagnosis of breast cancer based on the women's age and breast density. We examined 546 patients with breast symptoms, by clinical breast examination, mammography and ultrasound. A total of 546 breast lesions were examined by histopathology analyses. Histopathology results revealed the presence of 259 invasive cancers, and 287 benign lesions. Sensitivity varied significantly with age and breast density. In the 259 women who had both tests, ultrasound had a higher sensitivity than mammography in women younger than 45 years, whereas mammography had a higher sensitivity than ultrasound in women older than 60 years. The sensitivity according to age was 52,1% for mammography and 72,6% for ultrasound. The specificity according to age was 88, 5% for ultrasound and 73, 9% for mammography. Comparing the sensitivity of mammography and ultrasound according to the breast density indicates that mammographic sensitivity was 82,2% among women with predominantly fatty breast, but 23.7% in women with heterogeneous dense breasts, with the increase of fibro glandular density the level of sensitivity with mammography decreases, while ultrasonographic sensitivity was 71,1% among women with predominantly fatty breast and 57,0% for heterogeneous dense breasts. Our data indicate that sensitivity and specificity of ultrasound was statistically significantly greater than mammography in patients with breast symptoms for the detection of breast cancer and benign lesions particularly in dense breast and in young women.
Downloads
Download data is not yet available.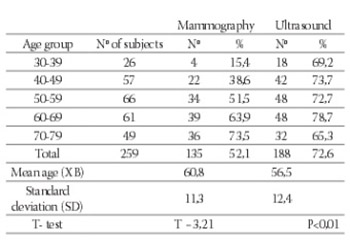 Downloads
How to Cite
1.
Devolli-Disha E, Manxhuka-Kërliu S, Ymeri H, Kutllovci A. Comparative Accuracy of Mammography and Ultrasound in Women with Breast Symptoms According to Age and Breast Density. Bosn J of Basic Med Sci [Internet]. 2009May20 [cited 2022Dec.7];9(2):131-6. Available from: https://www.bjbms.org/ojs/index.php/bjbms/article/view/2832
Section
Translational and Clinical Research