The Statins in Prevention of Coronary Heart Diseases in Type 2 Diabetics
Keywords:
statin, diabetes mellitus type 2, coronary heart disease, CRP, cholesterol, primary, prevention
Abstract
We aimed to determine whether the administration of statins to type 2 diabetics without pre-existing CHD reduced the incidence of CHD and their effects on cholesterol and CRP levels. All the participants were carefully interviewed, clinically examined, and laboratory tested to exclude conditions likely to provoke an inflammatory response that was an exclusion criterion. Exclusion criteria: Serious heart, liver or kidney problems, history of renal transplant, recent history of drug or alcohol abuse, HbA1c>10%, blood pressure >140/90mmHg, BMI >35 kg/m2, triglycerides >3,0mmol/dm3. 95 obese diabetics (mean age 60,9 years and BMI=31,59 kg/m2, diabetes duration more than 10 years) without pre-existing CHD, were included in the analysis and were randomized to simvastatin (25 female and 20 male used 40 mg simvastatin daily) or placebo (30 female and 20 male) group. After six months, simvastatin significantly lowered CRP levels by 19%, (p<0,01), cholesterol levels by 18%, TG levels by 8%, LDL levels by 20% and VLDL levels by 17%, whereas there was no change with placebo. After one year the difference sustained between groups. Coronary events were rarely in the simvastatin group (6,6%) than in the placebo group (14%). Coronary revascularizations were 4 in the placebo group and 1 in the simvastatin group. Rate of stroke was more often in the placebo group (18%) than in the simvastatin group (8,8%). So, reduction of acute CHD events is for 7,4% in the simvastatin group. Positive correlation was between CRP and CVD (r=0,29). Statin therapy reduced the risk of coronary hearth disease in diabetics without CHD.
Downloads
Download data is not yet available.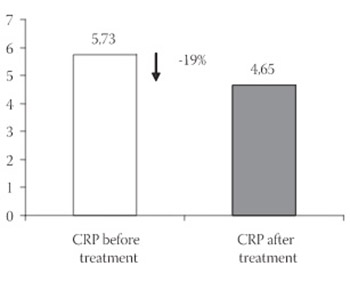 Downloads
How to Cite
1.
Heljić B, Velija-Ašimi Z, Kulić M. The Statins in Prevention of Coronary Heart Diseases in Type 2 Diabetics. Bosn J of Basic Med Sci [Internet]. 2009Feb.20 [cited 2022Dec.9];9(1):71-6. Available from: https://www.bjbms.org/ojs/index.php/bjbms/article/view/2860
Section
Short Communication