The Role of Nitric Oxide in Resolution of Vasospasam Corresponding with Cerebral Vasospasms after Subarachnoid Haemorrhage: Animal Model
Keywords:
Familial adenomatous polyposis, microsatellite instability, loss of heterozygosity
Abstract
Intracranial aneurysmal rupture is the common cause of spontaneous subarachnoid haemorrhage (SAH). This haemorrhage is typically diffuse and located in extracerebral subarachnoid space in which main cerebral arterial branches are situated. The intimate and long-term contact of arterial wall and blood products in the closed space causes the cerebral vasospasm as a serious and frequent complication of SAH. It is connected with significant morbidity and mortality due to developing of focal cerebral ischaemia and subsequently cerebral infarction. The aim of our experimental research was to create the animal model of vasospasm using the femoral artery due to examination of reduced basic dilator activity cause in arterial wall after SAH. The important characteristic of major cerebral arteries is their localization in the closed subarachnoid space which enables their to have long-term contact with blood products after haemorrhage. Thirty six femoral arteries (FA) of eighteen female rats weighing about 300 g were used. In vivo, femoral arteries are microsurgically prepared in both inguinal regions in all rats. Eighteen arteries were encompassed by polytetrafluoroethylene (PTFE) material forming closed tube and autologous blood was injected in the tube around the arterial wall. Additional eighteen arteries, as a control group, were also put in PTFE tube but without exposing to the blood. All rats are left to live for eight days. Afterwards, rats were sacrificed and their arteries were in vitro examined including an isometric tension measurement and histological changes analysis. The tension was measured during application of vasoconstrictors and vasodilatators (nitric oxide, NO). FA exposed to periadventitial blood exhibit hyper reactivity to constrictors (KCl, phenylephrine, acetylcholine) compared to control group. It was also found that NO donor (sodium nitroprusside) diminished arterial spasm induced by blood and vasoconstrictors. In conclusion, FA can be used as a model for vasospasm correlating with cerebral vasospasm after SAH and therefore this model can be utilized in future experiments assessing cerebral vasospasm. The reduced basic dilator activity of spastic femoral artery is caused by an absence of gaseous messenger NO next to the arteries but not by diminished response vasculature to NO. Absence of NO after SAH probably causes the reduced basic dilator activity of cerebral arteries as well. The guanylate-cyclase level in the arterial wall is consequently reduced after SAH primary due to absence of NO but not due to direct reduction of enzyme activities caused by process of blood degradation inside of subarachnoid space.
Downloads
Download data is not yet available.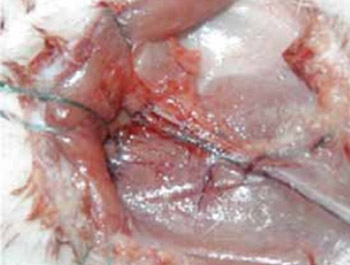 Downloads
How to Cite
1.
Dizdarević K. The Role of Nitric Oxide in Resolution of Vasospasam Corresponding with Cerebral Vasospasms after Subarachnoid Haemorrhage: Animal Model. Biomol Biomed [Internet]. 2008May20 [cited 2023Mar.29];8(2):177-82. Available from: https://www.bjbms.org/ojs/index.php/bjbms/article/view/2978