Tissue Angiotensin-Converting Enzyme in Patients With Various Clinical Forms of Psoriasis
Keywords:
angiotensin converting enzyme, psoriasis, tissue, therapy
Abstract
Tissue angiotensin-converting enzyme (ACE) was measured in 60 patients with psoriasis and in 20 healthy individuals. According to clinical forms of psoriasis, patients were further divided into three groups: psoriasis with solitary lesions (n=20), psoriasis with multiple disseminated lesions (n=20) and erythrodermic psoriasis (n=20). The tissue ACE activity was determined before and after therapy, by the spectrophotometric method using hippuryl-l-his-tidyl-l-leucine as a substrate. The enzyme activity is expressed in units: 1 U corresponds to 1 nmol of hippuric acid released by hydrolysis of hippuryl-l-histidyl-l-leucine per minute and 50 mg of the tissue. Before therapy, tissue ACE activity was significantly increased in patients with psoriasis (4,14±0,34; X±SEM) in comparison to healthy individuals (1,86±0,16). The greatest increase in tissue ACE activity was observed in patients with erythrodermic psoriasis (4,72±0,65), followed by those with multiple disseminated lesions (4,24±0,63) and solitary psoriatic lesions (3,47±0,48). After therapy, serum ACE activity was significantly decreased in all clinical forms of the disease. Determination of tissue ACE activity might be a good nonspecific parameter for assessment therapeutic effects.
Downloads
Download data is not yet available.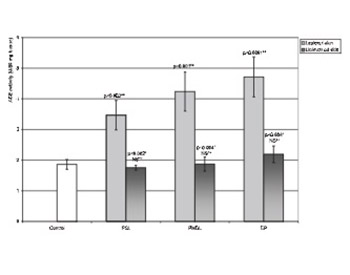 Downloads
How to Cite
1.
Huskić J, Alendar F. Tissue Angiotensin-Converting Enzyme in Patients With Various Clinical Forms of Psoriasis. Biomol Biomed [Internet]. 2007May20 [cited 2023Sep.28];7(2):103-6. Available from: https://www.bjbms.org/ojs/index.php/bjbms/article/view/3061