Troponin T and Histological Characteristics of Rat Myocardial Infarction Induced by Isoproterenol
Keywords:
isoproterenol, cardiac troponin T, myocardial necrosis, histology
Abstract
In our investigation, we used short-time model of myocardial infarction of rats induced by high dose of isoproterenol (ISP). We investigated cardiac troponin T blood level (cTnT) and histological characteristics of rat myocardium. ISP, single, intraperitoneal dose 250 mg/kg was given to male, adult, Wistar rats (n=12). Rats were distributed depending on their body weight in subgroups: ISP I (BW 260-280g) and ISP II (BW 250-400g). Control group (n=9) was treated with intraperitoneal dose of 0,95% NaCl. Cardiac TnT was measured by electrochemiluminiscence (ECLA) sandwich immunoassay in rat serum 4 hours after ISP application. Rats' hearts were dissected and examined by qualitative histological method (HE). Statistical significance was set at 0,05. There was significant difference in cTnT of ISP II (p=0,0001) vs. control and ISP I (p<0,05) vs. control. Significant difference was beetween ISP I and ISP II subgroups (p<0.001). The accent of histological changes of myocardium was on nuclei of cell. Cells showed acydophilic changes and nuclei disappearance as signs of coagulative necrosis development. Extensivity of histological changes were different beetween ISP I and ISP II subgroup. Used dose of ISP induced development of myocardial necrosis in rats. Suben-docardial portion of myocardium was more vulnerability than subepicardial portion. Rats of ISP II had more extensive histological changes than these in ISP I. Administered doses of ISP enabled cTnT utilization as a marker of myocardial necrosis.
Downloads
Download data is not yet available.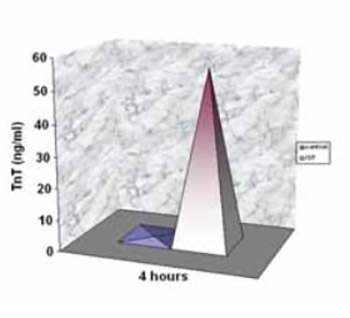 Downloads
How to Cite
1.
Hasić S, Jadrić R, Kiseljaković E, Mornjaković Z, Winterhalter-Jadrić M. Troponin T and Histological Characteristics of Rat Myocardial Infarction Induced by Isoproterenol. Biomol Biomed [Internet]. 2007Aug.20 [cited 2023Sep.23];7(3):212-7. Available from: https://www.bjbms.org/ojs/index.php/bjbms/article/view/3046