SARS-CoV-2 virus outbreak and the emergency public health measures in Bosnia and Herzegovina: January – July, 2020
Mirsada Hukic

Department of Medical Sciences, Academy of Sciences and Arts of Bosnia and Herzegovina, Sarajevo, Bosnia and Herzegovina; Institute for Biomedical Diagnostic and Research NALAZ, Sarajevo, Bosnia and Herzegovina

https://orcid.org/0000-0002-7870-4863

Mirza Ponjavic

GAUSS Centre for Geospatial Research Sarajevo, Sarajevo, Bosnia and Herzegovina; Faculty of Engineering and Natural Sciences, International Burch University, Sarajevo, Bosnia and Herzegovina

https://orcid.org/0000-0003-0124-6603

Emin Tahirovic

Faculty of Engineering and Natural Sciences, International University of Sarajevo, Sarajevo, Bosnia and Herzegovina; South East European Network for Medical Research (SOVE), Sarajevo, Bosnia and Herzegovina; Epidemic Location Intelligence System (ELIS) Project of Academy of Sciences and Arts of Bosnia and Herzegovina

Almir Karabegovic

GAUSS Centre for Geospatial Research Sarajevo, Sarajevo, Bosnia and Herzegovina; Faculty of Electrical Engineering, University of Sarajevo, Sarajevo, Bosnia and Herzegovina

https://orcid.org/0000-0002-5716-7528

Elvir Ferhatbegovic

GAUSS Centre for Geospatial Research Sarajevo, Sarajevo, Bosnia and Herzegovina; Epidemic Location Intelligence System (ELIS), Academy of Sciences and Arts of Bosnia and Herzegovina, Sarajevo, Bosnia and Herzegovina

https://orcid.org/0000-0003-3502-0223

Maja Travar

Epidemic Location Intelligence System (ELIS), Academy of Sciences and Arts of Bosnia and Herzegovina, Sarajevo, Bosnia and Herzegovina; Faculty of Medicine, University of Banja Luka, Banja Luka, Bosnia and Herzegovina; University Clinical Centre of the Republic of Srpska, Banja Luka, Bosnia and Herzegovina

https://orcid.org/0000-0002-9599-1999

Fadila Serdarevic

South East European Network for Medical Research (SOVE), Sarajevo, Bosnia and Herzegovina; Epidemic Location Intelligence System (ELIS), Academy of Sciences and Arts of Bosnia and Herzegovina, Sarajevo, Bosnia and Herzegovina; Erasmus Medical Center, Erasmus University, Rotterdam, Netherlands; Faculty of Medicine, Sarajevo School of Science and Technology, Sarajevo, Bosnia and Herzegovina

https://orcid.org/0000-0002-5803-7979
Keywords:
SARS-CoV-2 outbreak, COVID-19 pandemic, emergency, public health
Abstract
Between March 5th and July 25th, 2020, the total number of SARS-CoV-2 confirmed cases in Bosnia and Herzegovina (BH) was 10,090, corresponding to a cumulative incidence rate of 285.7/100,000 population. Demographic and clinical information on all the cases along with exposure and contact information were collected using a standardized case report form. In suspected SARS-CoV-2 cases, respiratory specimens were collected and tested by real-time reverse-transcriptase polymerase chain reaction assay. The dynamic of the outbreak was summarized using epidemiological curves, instantaneous reproduction number Rt, and interactive choropleth maps for geographical distribution and spread. The rate of hospitalization was 14.0%(790/5646) in the Federation of Bosnia and Herzegovina (FBH) and 6.2% (267/4299) in the Republic of Srpska (RS). The death rate was 2.2% (122/5646) in FBH and 3.6% in the RS (155/4299). After the authorities lifted mandatory quarantine restrictions, the instantaneous reproduction number increased from 1.13 on May 20th to 1.72 on May 31st. The outbreak concerns both entities, FBH and RS, and it is more pronounced in those aged 20-44 years. It is important to develop the communication and emergency plan for the SARS-CoV-2 outbreak in BH, including the mechanisms to allow the ongoing notification and updates at the national level.
Downloads
Download data is not yet available.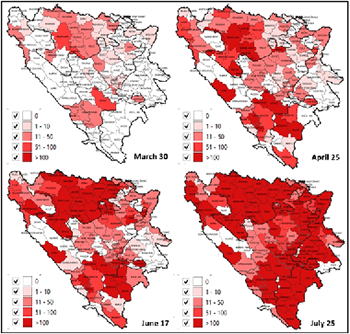 How to Cite
1.
Hukic M, Ponjavic M, Tahirovic E, Karabegovic A, Ferhatbegovic E, Travar M, Serdarevic F. SARS-CoV-2 virus outbreak and the emergency public health measures in Bosnia and Herzegovina: January – July, 2020. Bosn J of Basic Med Sci [Internet]. 2021Feb.1 [cited 2022Jan.22];21(1):111-6. Available from: https://www.bjbms.org/ojs/index.php/bjbms/article/view/5081
Section
New and Emerging Medical Entities
Copyright (c) 2020 Mirsada Hukic, Mirza Ponjavic, Emin Tahirovic, Almir Karabegovic, Elvir Ferhatbegovic, Maja Travar, Fadila Serdarevic
This work is licensed under a Creative Commons Attribution 4.0 International License.