SARS-CoV-2 virus outbreak and the emergency public health measures in Bosnia and Herzegovina: January – July, 2020
Keywords:
SARS-CoV-2 outbreak, COVID-19 pandemic, emergency, public health
Abstract
Between March 5th and July 25th, 2020, the total number of SARS-CoV-2 confirmed cases in Bosnia and Herzegovina (BH) was 10,090, corresponding to a cumulative incidence rate of 285.7/100,000 population. Demographic and clinical information on all the cases along with exposure and contact information were collected using a standardized case report form. In suspected SARS-CoV-2 cases, respiratory specimens were collected and tested by real-time reverse-transcriptase polymerase chain reaction assay. The dynamic of the outbreak was summarized using epidemiological curves, instantaneous reproduction number Rt, and interactive choropleth maps for geographical distribution and spread. The rate of hospitalization was 14.0%(790/5646) in the Federation of Bosnia and Herzegovina (FBH) and 6.2% (267/4299) in the Republic of Srpska (RS). The death rate was 2.2% (122/5646) in FBH and 3.6% in the RS (155/4299). After the authorities lifted mandatory quarantine restrictions, the instantaneous reproduction number increased from 1.13 on May 20th to 1.72 on May 31st. The outbreak concerns both entities, FBH and RS, and it is more pronounced in those aged 20-44 years. It is important to develop the communication and emergency plan for the SARS-CoV-2 outbreak in BH, including the mechanisms to allow the ongoing notification and updates at the national level.
Downloads
Download data is not yet available.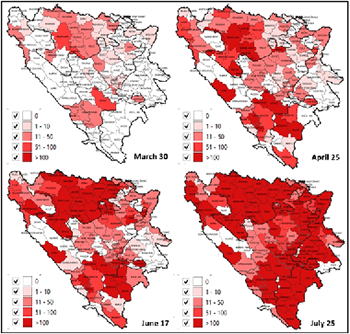 Downloads
Additional Files
How to Cite
1.
Hukic M, Ponjavic M, Tahirovic E, Karabegovic A, Ferhatbegovic E, Travar M, Serdarevic F. SARS-CoV-2 virus outbreak and the emergency public health measures in Bosnia and Herzegovina: January – July, 2020. Biomol Biomed [Internet]. 2021Feb.1 [cited 2023Apr.1];21(1):111-6. Available from: https://www.bjbms.org/ojs/index.php/bjbms/article/view/5081
Section
New and Emerging Medical Entities