Evaluation of bone remodelling parameters after one year treatment with alendronate in postmenopausal women with osteoporosis
Keywords:
postmenopausal osteoporosis, bone turnover markers, bone mineral density, alendronate
Abstract
Antiresorptive agents are widely used to treat osteoporosis. Both reduction in bone turnover and increase in BMD may be necessary to decrease the fracture risk. The aim of the study was to evaluate the effects of aledronate on bone turnover markers and bone mineral density in postmenopausal women with osteoporosis. The study involved a group of 56 postmenopausal women with osteoporosis treated with alendronate (70 mg) weekly at the Institute of Nuclear Medicine Clinical Center University of Sarajevo during a 12-months period. Bone mineral density (BMD) at lumbar spine and proximal femur and bone turnover markers (serum β-CrossLaps, urinary N-telopeptides of type I collagen (NTx), total serum alkaline phosphatase (AP) and serum osteocalcin) were measured at baseline and after 12 months of the treatment with aledronate. BMD values significantly increased both at lumbar spine by 13.46% and proximal femur by 21.96% during the study period (-3.12±0.24 vs. -2.7±0.19 and -2.55±0.2 vs. -1.99±0.19 respectively; p<0.001). Bone turnover markers significantly decreased during the study period; C-terminal telopeptides of type I collagen fragment (β-CrossLaps) 49.0% (0.51±0.05 vs. 0.26±0.028 ng/mL), NTX 33.4% (48.3±4.9 vs. 32.15±3.25 nMBCE/mM Cr), AP 24.3% (81.1±5.2 to 61.43±5.2 IU/L) and serum osteocalcin by 29.7% (34.3±2.65 to 24.1±1.36 ng/mL)(p<0.001). Alendronate treatment increased BMD and reduced the level of bone turnover markers. Therefore, the treatment with aledronate during 12 months period can be recommended in postmenopausal women with osteoporosis.
Downloads
Download data is not yet available.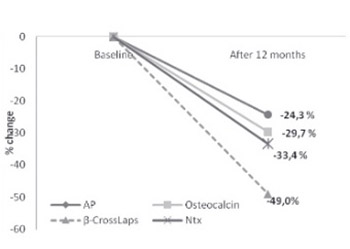 Downloads
Additional Files
How to Cite
1.
Kučukalić-Selimović E, Valjevac A, Hadžović-Džuvo A, Skopljak-Beganović A, Alimanovic-Alagić R, Brković A. Evaluation of bone remodelling parameters after one year treatment with alendronate in postmenopausal women with osteoporosis. Biomol Biomed [Internet]. 2011Feb.20 [cited 2023Jan.31];11(1):41-5. Available from: https://www.bjbms.org/ojs/index.php/bjbms/article/view/2622
Section
Translational and Clinical Research